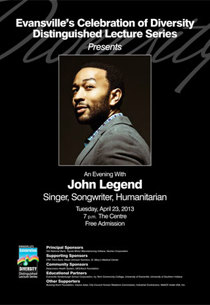 Evansville's Celebration of Diversity Distinguished Lecture Series is pleased to announce its guest speakers for spring and fall 2013.  "An Evening with John Legend" will be the first in the series on Tuesday, April 23. Leigh Anne and Sean Tuohy, whose story was featured in the book "The Blind Side," are scheduled for Thursday, September 26.

The events will be held at The Centre's Aiken Theatre. The Lecture Series is free and tickets are not required for admission. Doors will open at 5:30 p.m. Each lecture begins at 7 p.m. Legend's presentation will be interspersed with a performance of his music. The Tuohys will sign copies of their books following their presentation.
Recording artist, concert performer, and philanthropist, John Legend has won nine Grammy awards and was named one of Time Magazine's 100 most influential people. Throughout his career, he has worked to make a difference in the lives of others, striving to change the world as much as he changed contemporary music.  Legend launched the successful "Show Me Campaign," an initiative that uses education to break the cycle of poverty, and continues his efforts to raise support and create awareness for many issues facing today's youth.  
The Touhy family's life is chronicled in the best-selling book "The Blind Side," which became a blockbuster movie. Beginning in 2004, the Touhys took in, and eventually adopted, Michael Oher, an African American teen that was being raised by his crack-addicted mother in the Memphis projects. "Who knows where I'd be?" says Michael, who could have been just another statistic. But with the love and support of the Tuohys, Micheal improved as a student and became one of the most sought after players in college and professional football.
Leigh Anne and Sean Tuohy will share their personal Blind Side observations – from seeing Michael for the first time to how the experience changed the Tuohys as a family, which includes daughter Collins and son Sean, Jr.  "Michael had a much greater impact on our lives than we did on his life," says Leigh Anne. The Tuohys continue their mission to inspire hope, ignite generosity, and motivate deserving, but underserved youth.
Evansville's Celebration of Diversity Distinguished Lecture Series is a collaborative effort among the City of Evansville, University of Southern Indiana, University of Evansville, Ivy Tech Community College, Evansville Vanderburgh School Corporation, and area businesses committed to the support of diversity within the community.  The Lecture Series seeks to engage Evansville and surrounding communities to explore, appreciate, and celebrate the diversity of race, culture, and ethnicity.  For more information visit www.diversitylectureseries.org.