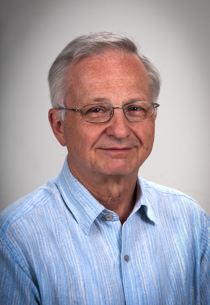 Dr. Robert Boostrom, professor of teacher education, is the 2013 recipient of the Distinguished Professor Award at the University of Southern Indiana. The award will be presented during the 9 a.m. USI Commencement ceremony for the Pott College of Science, Engineering, and Education on Saturday, May 4. The award was announced during the Honors Convocation for the college April 8.
Boostrom is being recognized for two decades of achievements as a leader in improving teaching for graduate and undergraduate students, his service to the profession and to the University, and for his scholarship. He teaches educational foundations courses in the undergraduate and graduate programs. His research and teaching interests include the moral life of classrooms and critical thinking. In his writing, he explains how society and educators are morally bound to promote reflective thinking and life-long learning.
He has written journal articles, book chapters, book reviews, and has presented papers at national and international professional conferences. He has two book chapters and another book, A Moral Critique of Contemporary Education, being published this year. He also has been executive editor, for the last 15 years, of The Journal of Curriculum Studies, an international journal in curriculum research. In 2008, he completed a term as president of the American Association of Teaching and Curriculum, an organization of university professionals established to promote the scholarly study of the intersection of teaching and curriculum.
Boostrom joined the USI faculty in 1993. He has held various administrative positions while at the University, including chair of the Department of Teacher Education from 2005 to 2008 and director of Graduate Studies in teacher education from 1998 to 2001. He served as interim University Core Curriculum coordinator for the Department of Teacher Education in 2001, and has contributed significantly to the development of the University Core Curriculum through his work on the USI Core Curriculum Review Task Force in the Faculty Senate.
Boostrom holds a Bachelor of Arts degree in history and English from Elmhurst College and a doctorate in curriculum and instruction from the University of Chicago. He and his wife Linda live in Evansville. They have three adult sons, Rob, Adam, and Alexander Boostrom.
The Distinguished Professor receives a monetary grant and will select a student to receive a scholarship in his name next year. Boostrom will deliver the address at USI's fall Commencement in December.