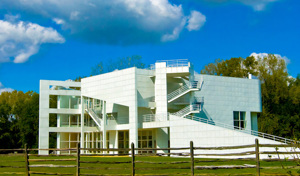 Have you experienced the magic of New Harmony lately?  Did you know that USI is closely linked to the historic town located along the Wabash River in southern Indiana? From Historic New Harmony, a unified program of USI and the Indiana State Museum and Historic Sites, to New Harmony Theatre and the New Harmony Gallery of Contemporary Art, as well as a variety of student and faculty research projects, much of what happens in New Harmony can be traced back to the University.
This is the perfect time of year to explore Harmonie State Park, take an art or architecture tour of downtown New Harmony using the new OnCell System architecture walking tour, or visit the Atheneum/Visitor's Center for a guided tour. Fun shops filled with antiques, art, clothing, and accessories line the downtown area. Vintage Harmony offers Bliss Artisan ice cream and surrey quadricycle rental. New Harmony is the perfect place to plan a day visit with the family or an overnight getaway for two at the New Harmony Inn.
On Saturday mornings from 9 a.m. to noon you can find both produce and art at the New Harmony Farmer's Market across from the Working Men's Institute. The market offers farm fresh vegetables, fruit, and locally produced treasures like pottery, textiles, books, and soap.
Traveling Exhibit
A traveling exhibit, Science on the Edge, from the Indiana State Museum is located in the historic Scholle House through December 2014 and is included in Historic New Harmony's daily tour.
The pioneers of New Harmony were more than just scientists—they were voyagers uncovering the secrets of a newly-born country. They explored new lands, discovered fantastic new animals, and recorded a changing Native American way of life. Science on the Edge looks at this part of American history through an Indiana lens, when the United States was still young and unexplored frontier stretched west to the ocean.
Gallery
Located at 506 Main Street in the heart of downtown New Harmony, the New Harmony Gallery of Contemporary Art is currently exhibiting The Grand Armada by the Smith Townsend Collaborative through August 18. This multimedia installation features work by Brandon C. Smith and Travis Townsend focusing on themes from the iconic novel Moby Dick.
The main gallery and The Gallery Shop are open from 10 a.m. to 5 p.m. Tuesday through Saturday, and from noon to 4 p.m. Sunday. 
The Gallery Shop offers diverse work from more than 115 regional artists. Glassware, pottery, paintings, home décor, textiles, and jewelry are just a few of the artisan made items you'll find. The Gallery Shop is currently showcasing work by ceramic artist and USI professor Al (Alisa) Holen, who produces functional pottery with rich textured glazes. A larger body of her work also will be featured in the main gallery show, The Functional Metaphor, this winter from November 23 through December 27.
Learn more on the New Harmony Gallery's website.
Theatre
The New Harmony Theatre is a professional Equity theatre produced by USI and is the Tri-state's only professional Equity theatre. Plays are performed in the historic Murphy Auditorium located at 419 Tavern Street in New Harmony.
This summer, Cotton Patch Gospel, by Tom Key and Russell Treyz, with music and lyrics by Harry Chapin, runs July 19-21, July 26-28, and August 2-4. Cotton Patch Gospel is directed by Eric Altheide, New Harmony Theatre's resident associate director and assistant professor of theatre at USI. The bluegrass musical about the birth of Jesus in Gainesville, Georgia, is told by Larry Tobias with help from his band of disciples, including Sonny Franks, Willy Welch, and Evansville locals Jolie DeVries and Jon Isaac Lutz.
Tickets are on sale now, and season tickets may be purchased at any time through the first production. All evening performances start at 7:30 p.m. and matinees begin at 2 p.m. Individual adult tickets are $35 for Cotton Patch Gospel. Discounted tickets are available for students and seniors. Season tickets are $63 for adults, $57 for seniors (60 and over), and $48 for groups of 20 or more. For more information, or tickets, visit www.newharmonytheatre.com or call the box office at 812/682-3115 or toll free 877/NHT-SHOW.
There's something for everyone in New Harmony. Plan a visit by calling the Atheneum/Visitor Center at 800/231-2168 or emailing harmony@usi.edu