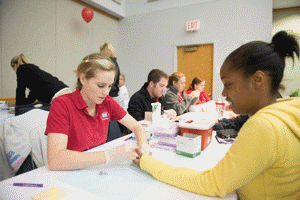 The Wonderful World of Wellness Fair is back. The fair runs from 8:30 a.m. to 3 p.m., Wednesday, October 2 in University Center's Carter Hall. USI organizations and community partners join together to provide an array of free screenings and services to faculty, staff, and students. "We want employees and students to be aware of the resources available on campus and in the community to help them achieve their best level of health and wellness," said Christine Johnston, assistant program director for student wellness and one of the event organizers.
More than 40 booths will line Carter Hall where visitors can obtain information about stress management, sleep disorders, and nutrition; get blood pressure and cholesterol checks and body fat analyses, and much more. View a complete list of services and organizations.
Door prizes will be given out as well as an opportunity to win a grand prize, a Kindle Paperwhite e-reader and case. Johnston explained, "We'll be doing what we call a wellness passport; basically where both students and employees can visit designated organization booths and get a stamp or signature. When they get enough on that passport, they can be entered to win the grand prize."
The advantages of attending a health and wellness fair include a savings of time and money. "We're offering a number of screenings for free that would otherwise cost," Johnston pointed out, adding, "there are a lot of services offered in one place that people would have to take the time to seek out."
New this year, private, non-invasive cheek swab HIV screenings will be done with results available within 20 minutes, courtesy of the AIDS Resource Group.
Walgreens also will be in attendance to provide another new service: drug interaction checks. Just bring a list of medications including prescriptions and over-the-counter medications, as well as vitamins or other supplements.
The University Health Center will be on-site to administer flu shots for $20 (cash or check). This is the only service that has an associated charge and no appointments are necessary.
The event is sponsored by Human Resources and the Department of Recreation, Fitness, and Wellness. For additional questions contact Christine Johnston by phone 812/461-5483 or by e-mail catolis@usi.edu or Amy Miller by phone 812/464-1781 or by e-mail ajmiller3@usi.edu. ♦