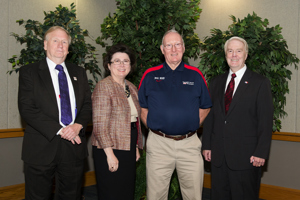 The University of Southern Indiana celebrated its founders and honored its supporters at the annual Founders Day program sponsored by the USI Alumni Association on Tuesday.
"The wisdom of the individuals who founded this great University was such that they had the forethought and the courage to dream big," said USI President Linda L. M. Bennett. "Everything that we're enjoying today is because of their work."
The program, held in Carter Hall, included the presentation of the Special Recognition Award, the Faculty Recognition Award, and the Alumni Service Award.
The Special Recognition Award was presented to Paul J. Werner. An avid basketball fan, Werner has followed the USI men's team since 1972. In 2008, he and his wife Eleanor established the Paul J. and Eleanor R. Werner Endowed Men's Basketball Scholarship. The gift will perpetually support student athletes in the men's basketball program. The Werners are also supporters USI's Bent Twig Outdoor Education Center and Bokelman School.
Dr. Craig R. Ehlen, professor of accounting in the Romain College of Business, received the Faculty Recognition Award. During his 23 years at USI, Ehlen has received more than a dozen awards in recognition of his dedication to teaching. Ehlen has generously supported the University since he was a visiting instructor in 1989. He and his wife Peg established the Craig R. Ehlen Scholarship Endowment to benefit senior accounting majors with plans to pursue careers in public accounting, internal auditing, or fraud auditing.
John M. Lawrence '73, an alumnus who has established three awards and three scholarships and provided financial funding for two classrooms, received the Alumni Service Award. Lawrence's gifts have benefited students across the University - in the College of Nursing and Health Professions, College of Liberal Arts, and Romain College of Business.
Nursing students benefit from the Melissa Faye Lawrence Endowed Memorial Nursing Scholarship, the largest scholarship in the college, honoring Lawrence's late wife, who was a nurse. Also in honor of his wife, Lawrence established the Melissa Faye Lawrence and John M. Lawrence Excellence in Teaching Award recognizing outstanding teaching in USI nursing programs.
The Lawrence Lecture Hall and the Lawrence Interactive Classroom, located in the Health Professions Center, were named to honor and recognize John for his generous support.
Lawrence also donated 28 manuscripts from The Separatist Society of Zoar to USI's Center for Communal Studies and established the Scavone Medieval Studies Awards and the Bill and Helen Sands Business Communication Scholarship.