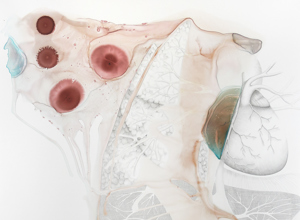 An exhibition featuring the work of Sara J. Northerner and Vesna Jovanovic will be on display at the New Harmony Gallery of Contemporary Art October 5 through November 18. The exhibition will feature the exploration of consciousness and the body utilizing diverse methods and media. 
A reception for Northerner and Jovanovic will be held from 5 to 7 p.m. Saturday, October 5, at the gallery. The reception and the exhibition are free and open to the public.   
Northerner's large scale photographs of figures - which are layered, covered in wax, and sewn together - will suspend freely in space. Northerner's work will be in visual dialogue about body and perception with Jovanovic's large-scale drawings, derived from ink blots and featuring a mixture of abstracted and highly detailed images inspired by the objectivity of medical illustration while incorporating the subjectivity of her personal experience.
Northerner has a BFA from Washington University, a MFA from Cranbrook Academy of Art and a PhD in Interdisciplinary Humanities from the University of Louisville. Northerner maintains a studio practice in Louisville, Kentucky. Currently, Dr. Northerner is an Assistant Professor of Interdisciplinary Studies at Western Kentucky University. For more information, go to http://people.wku.edu/sara.northerner/.
Jovanovic has a BFA from the School of the Art Institute of Chicago and an MFA from Ohio State University. Jovanovic maintains a studio practice in Chicago, Illinois For more information, go to http://www.vesnaonline.com/.
Jovanovic's project is partially supported by an Individual Artists Program Grant from the City of Chicago Department of Cultural Affairs & Special Events and Illinois Arts Council, a state agency.
The New Harmony Gallery of Contemporary Art is located at 506 Main Street in New Harmony, Indiana. Regular hours are 10 a.m. to 5 p.m. Tuesday through Saturday and noon to 4 p.m. Sunday. For more information, call 812/682-3156 or go to www.usi.edu/nhgallery.