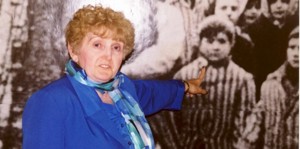 Holocaust survivor and forgiveness advocate Eva Mozes Kor, founder of Children of Auschwitz Nazi Deadly Lab Experiments Survivors (CANDLES), will present the 2013 Indiana University School of Medicine-Evansville Corcoran Lectures on Tuesday, October 22, at the University of Southern Indiana.
After her family of six was transported to the Auschwitz Nazi death camp, she and her twin sister Miriam were the only survivors, subjected to human genetic experimentation under Dr. Josef Mengele, the "Angel of Death." After Auschwitz was liberated in 1945, they returned to their native Romania before moving to Israel in 1950.  There, Kor met her husband, fellow Holocaust survivor Michael Kor, and the two eventually made their way to Terre Haute, Indiana.
Kor will share her inspiring story of forgiveness, surviving the holocaust as a victim of the Mengele twin studies. Her topic raises compelling questions about bioethics and future implications for medicine, research, and healthcare.
An 11:30 a.m. invitation-only lecture, "Triumph of the Human Spirit, from Auschwitz to Forgiveness," will be held in Carter Hall in the University Center.
A free, public lecture of the same title will be at 5:30 p.m. in Mitchell Auditorium in the Health Professions Center.  Both venues are at the University of Southern Indiana, the host campus of the IU School of Medicine-Evansville.
The IU School of Medicine-Evansville, in partnership with the University of Southern Indiana, sponsors the annual Patrick J.V. and Margaret B. Corcoran Lecture in memory of its founding director, Patrick J.V. Corcoran, M.D., and his wife, Margaret B. Corcoran, a nurse anesthetist. Daughters of the late Dr. and Mrs. Corcoran, Val Corcoran Wenzler, M.D., Sheila Corcoran, Ellen Corcoran Hegeman and Monica Corcoran, established an endowment to provide medical lectures to the Evansville community and scholarships to area medical students. Dr. Corcoran was a professor of medicine at the Indiana University School of Medicine and assistant dean from 1971 to 1983.
For more information, call IUSM-Evansville at 812/464-1831.