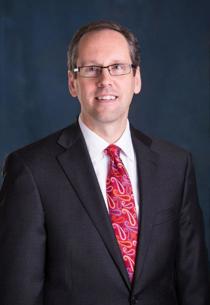 University of Southern Indiana alumnus Keith Jewell '86 M'91 was recently named president of St. Mary's Health System, which serves the Evansville community and the Tri-state area. He assumes the role in December.
Jewell earned his bachelor's degree in accounting from USI's Romain College of Business in 1986. He later returned to USI, earning his Master of Business Administration in 1991.
Jewell said he recently connected with USI President Linda L. M. Bennett on the online professional network, LinkedIn. "I told her I went to USI because it was affordable, but the benefits I received were invaluable from the standpoint of both education and leadership skills."
"I was able to develop skills in a safe environment and take those skills with me throughout my professional career," added Jewell, who was an Amigo and on the Activities Programming Board during his time at USI. "Those skills have contributed to any success I enjoy today."
He has more than 20 years of experience in healthcare, including more than 10 years at the executive level. An Evansville native, he began his healthcare career in finance at Deaconess Hospital before moving to Ernst & Young as a health care consultant. In 1993, he joined Franciscan St. Francis Health, where he currently serves as the executive vice president/chief operating officer. With hospitals in Indianapolis, Mooresville, and Carmel, Franciscan St. Francis Health is a member of the Franciscan Alliance, a large Catholic healthcare system in the Midwest with 13 hospitals throughout Indiana and Illinois.
Jewell is excited to continue to advance his career in his hometown. As President of St. Mary's Health System, he will be responsible for advancing the St. Mary's mission and providing leadership and guidance to the organization's more than 750 physicians and 4,000 associates on staff.
He said he looks forward to returning to the USI campus to see how it has grown and changed, and exploring how he can contribute to its ongoing success. "I was blessed to be able to start my professional journey at USI. It gave so much to me professionally."