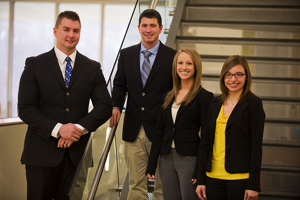 The University of Southern Indiana's accounting team ("Screaming Eagles") is a finalist in the 2013 American Institute of Certified Public Accountants (AICPA) Accounting Competition and will compete against teams from Santa Clara University and University of Portland for the top prize. 
The three teams will present their financial plans in Washington, D.C., in December, and the most impressive plan will win $10,000.  Second and third place teams will win $5,000 and $2,500, respectively.
Team members are Bryant Cornelius of Oden, Brooke Neuhoff of Huntingburg, and Nick Muensterman and Lauren Perigo of Evansville.  Timothy Bryan '90 M'07, instructor of accounting, serves as faculty advisor for the team.
This year's team addressed the issue of personal financial planning, and the scenario focused on a young software developer with hopes of one day creating a mobile application.  Each team was given the task of providing the developer with financial advice.
USI's team was among more than 150 teams from universities nationwide competing to be one of 15 semifinalists. 
"We certainly appreciate everyone who voted for the USI team during the semifinal portion of the competition," said Dr. Brian McGuire, associate dean of the Romain College of Business and director of accounting programs.