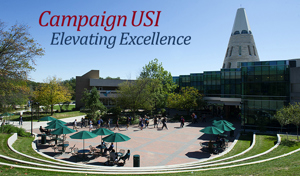 As the University of Southern Indiana continues to expand in both size and academic opportunities, investment in USI ensures a vibrant future that nurtures student growth, a strong and diverse group of faculty, and a beautiful campus with state-of-the-art infrastructure and innovative learning technology. Campaign USI: Elevating Excellence, with a goal of raising $50 million in gifts and commitments by 2015, will help make that possible. Those who participate in Campaign USI: Elevating Excellence will help position the University for even greater, bolder, and broader service to the region, state, and world.
Many USI employees have already contributed to the continued success and advancement of USI through the Campaign. Here are just a few of the reasons why they chose to give:
"I take pride in the fact I have witnessed USI transform over the years, and that I had a part in that as a student and staff member. I want my teenage daughter to benefit from all the opportunities USI has to offer, and contributing to Campaign USI: Elevating Excellence helps ensure that. More importantly, my participation shows that I value USI as more than just a paycheck - it is an opportunity for the both of us to continue to grow individually and leave our own legacy to society."
- Melissa S. Burch, Senior Administrative Assistant, Housing and Residence Life
"Three of my four young adults are USI graduates. In order to give back and pay it forward, I have made pledges to Campaign USI: Elevating Excellence."
- Mary Ann Bernard, Senior Administrative Assistant, USI Foundation
"Campaign USI: Elevating Excellence is a great opportunity to support USI's mission and to elevate the excellence we are already achieving. As a USI alum, I choose to give back because I recognize the role USI played in my personal and professional success. As a USI faculty member, I give to the campaign to support what I and my peers strive to achieve every day."
- Jennifer L. Titzer '00, '09, M'10, DNP'13, Lecturer, College of Nursing and Health   Professions
"Campaign USI: Elevating Excellence will take USI to a higher level in every aspect of the University, providing an enhanced educational experience."
- Tim Mahoney, Instructor in Economics, Romain College of Business
"I made a donation to Campaign USI: Elevating Excellence because I believe in USI. As an employee of the University I have daily opportunities to witness how my money is invested. I talk with students who benefit from scholarship money; I have personally advanced my career through opportunities for professional development; and all of us have profited from the physical improvements to our campus."
-  Kathy V. Rodgers, Department of Mathematics Chair, Pott College of Science, Engineering, and Education
"It was an easy decision to be a part of Campaign USI: Elevating Excellence because I believe in USI. I believe in the people; I believe in the mission; I believe in the leadership; and I believe in what we do for students. This is a special place - one that I call home. I can't think of a better place in which to invest."
- Jon Mark Hall, Director, Athletics
"This campaign is an opportunity to strengthen our University and support its strategic goals. With your help, we will raise $50 million by December 31, 2015. These funds will enrich the student experience, enhance the academic environment, elevate athletics, strengthen community partnerships, and provide vital ongoing annual support for USI."
-  Linda L.M. Bennett, USI President
From 11 a.m. to 1 p.m., Wednesday, November 20, the USI Foundation is hosting a Campaign USI Family Luncheon, recognizing those who have already contributed to the Campaign. While the RSVP date has come and gone, there is still a chance to win one of  several prizes (a set of USI cornhole boards and bags, a $75 gift card to the Campus Bookstore, and three $25 gift cards to Starbucks) if they pledge their gift before or during the luncheon.
To make a gift commitment now, visit the USI Foundation online giving site.
Please contact USI Foundation for more information at USI.Foundation@usi.edu or 812/464-1918. ♦