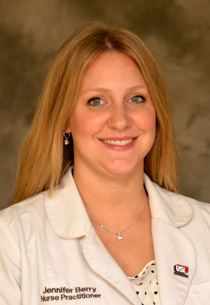 Jennifer Berry, adult health nurse practitioner with Community Hospital Oncology Physicians in Indianapolis, Indiana, is the 2013 recipient of the USI Distinguished Nursing Alumna Award. 
Berry completed associate and bachelor's degrees in nursing at the University of Southern Indiana and a Master of Science in Nursing degree at Indiana University, Indianapolis. She has worked as an adult health nurse practitioner with an oncology focus since 2008. 
"I'm honored to have been chosen for the 2013 USI Distinguished Nursing Alumna Award," said Berry. "The foundation for my career was established during my time at USI. I am blessed to have met such amazing mentors to guide me on my path." 
Berry began work as a registered nurse at Deaconess Hospital before joining the nursing staff at Methodist Hospital in Indianapolis as a graduate student. Her first position as an advanced practice nurse was at Rush University Medical Center in Chicago in 2008. There she was the manager of stem cell transplantation and worked closely with hematology patients, with an emphasis on multiple myeloma and lymphoma. 
In her current role as an oncology nurse practitioner with the Community Health Network, she manages various aspects of cancer patients' care, including intravenous and oral chemotherapy, radiation therapy, long-term effects of therapy, and all other medical management issues associated with oncology treatment in both inpatient and outpatient settings. 
"Jennifer is a positive force and advocate for her patients for whom she takes a personal, as well as a professional, interest," said Ann Collison, lead nurse practitioner at Community Hospital Oncology Physicians.  "Jennifer cares for her patients with the tenderness and the concern she would a member of her own family. She's also very professional and astute in her practice as she oversees the care of many complex hematology and oncology patients. We are thrilled to have Jennifer as part of our practice, and congratulate her on this award." 
In 2010, Berry was named Nurse of the Year by the Chicago chapter of the Leukemia Research Foundation, which presents the award to recognize the important contributions of hematology-oncology nurses to the care of patients with leukemia, lymphoma, and myelodysplastic syndromes (MDS).
Berry also was the 2008 Outstanding Master's Student at the Indiana University School of Nursing. Her volunteer activities include the Susan G. Komen Race for the Cure, American Cancer Society Relay for Life, and Camp Warren Jyrch, an annual, one-week resident camp in Mt. Carroll, Illinois, for children with hemophilia or other bleeding disorders.
The USI Distinguished Nursing Alumna Award recognizes a graduate who has made outstanding achievements in a career or public service. The award was presented at the USI Nursing Alumni Society's annual dinner.