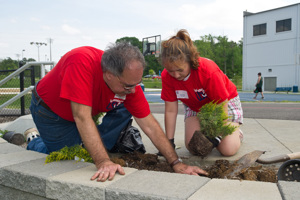 The time has arrived once again for USI faculty, staff, students, and community members to warm up their green thumbs and get their hands dirty as the annual Spruce Up event kicks off National Volunteer Week at USI. From 1 to 4 p.m., Sunday, April 6, families, friends, and colleagues will gather to tackle this year's list of projects which include: planting and trimming ivy, staining benches along the USI Burdette Trail, cleaning trails, and mulching along University Boulevard and the playground of the Children's Learning Center.
Spruce Up began in 2011 as a celebration of the one millionth hour of volunteer services to USI. The event precedes Commencement every spring. "The idea of Spruce Up is really to spruce up the campus to get ready for graduation," said Janet Johnson, director of Alumni and Volunteer Services. "It's one more way we can celebrate with our newest graduates, by beautifying the campus."
From children to retirees, the community comes together in the spirit of volunteerism to dedicate their day to the University. It's a nostalgic moment for some, especially for alumni who haven't seen the campus in a while and are excited to see the growth and change the University has undergone. It helps to give them a renewed sense of pride and a meaningful re-introduction to their alma mater. Equipment is provided to volunteers, as well as a free t-shirt and refreshments.
Volunteering at USI goes well beyond Spruce Up and is vital to the University. Many large events, such as Parents and Family Weekend, Assessment Day, and Commencement couldn't run efficiently without the assistance of volunteers. The Volunteer USI program was established in 1996 to recruit, place, and recognize volunteers who donate their time and talents to benefit the needs of USI, its outreach programs and community. In 2012-2013, Volunteer Services recorded more than 137,000 hours of service worth an estimated $3 million.
Sarah Schomaker, a social work major at USI, serves as a Student Ambassador, and along with her sorority, Delta Zeta, dedicates time to raising money and awareness for the speech and hearing impaired. Schomaker, who gives potential USI students campus tours said she enjoys "sharing my stories of why USI is great because it renews the love and passion I have for this school each and every time."
Volunteer hours can be accrued across academic disciplines, athletic involvement, clinical practice, mentoring, and tutoring. Jordan Stewart, a USI student majoring in elementary education, volunteers her time at Marrs Elementary School tutoring children and helping grade tests and school work. "I love helping others and giving back to my community," she said. It's also very rewarding to see the smiles of other individuals. My suggestion to all is if you get the opportunity to volunteer, do so. It's a life-changing experience and it's is very rewarding to help others."
Volunteer assignments can be tailored to fit anyone's schedule, and include one-time, short-term, or ongoing, assignments based on availability and interest. Don Musgrave has served on the Volunteer USI advisory council and has been a member of the Parents and Families Association. He recalls a time in the infancy of his volunteer service at USI when he met an incoming student on Orientation Day. "I asked if he had any family with him." Musgrave was surprised when 30 members of the student's family came over to greet him. "For many years after that, I noticed how many families support students going to USI." As a boy, Musgrave observed his father's deep involvement in community service and has done his utmost to follow in his footsteps. As the father of three sons himself, he hopes that his example will be one to which they aspire.
While volunteering at USI serves a practical purpose in getting work accomplished, it also fills a deeper need. "We're able to do more with our volunteers in the way of achieving our mission but it also builds a relationship," said Johnson. "It strengthens the relationship between community and University, and provides a basis for getting to know each other."
For more information about volunteering or to register for Spruce Up, contact Alumni and Volunteer Services: VolunteerUSI@usi.edu or 812-464-1924.