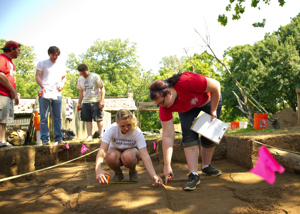 After a year at Fort Ouiatenon near West Lafayette, USI's Archaeological Field School is back in New Harmony, Indiana. 
The Archaeological Field School is a six-credit summer course designed to give students experience in archaeological field methods through participation in a site excavation. Students learn basic excavation techniques, mapping and artifact identification. This summer, 10 students are enrolled.
Dr. Michael Strezewski, assistant professor of anthropology, leads the Archaeological Field School. He said the area where he and his students are now working, behind the Working Men's Institute on Tavern Street, was once the site of the Harmonist Dormitory No. 1, which was constructed in 1817 and torn down in 1858. They hope to discover how the dormitory and adjacent kitchen were constructed.
The excavation will be going on from 8:30 a.m. to 3 p.m. Monday through Friday through June 13 (except on Memorial Day) and will be be open to the public during an open house from 10 a.m. to 4 p.m. Saturday, May 31.
Previous USI Archaeological Field Schools have been held at the site of the Harmonist pottery kiln by the Lenz House and at Community House No. 2 in New Harmony.
USI began offering a bachelor's degree program in anthropology in 2013.