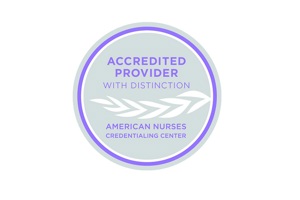 The American Nurses Credentialing Center (ANCC) has awarded its highest accreditation rating to the nursing continuing education programs in the College of Nursing and Health Professions at the University of Southern Indiana. ANCC accreditation distinguishes organizations that demonstrate quality and excellence in the curriculum design and delivery of continuing nursing education. According to data released in 2012, less than 10 percent of all ANCC-accredited organizations achieve this honor.
The College of Nursing and Health Professions received "Accreditation with Distinction" for its online continuing education certificate programs and the ongoing series of conferences and workshops conducted on campus for nurses and other health professionals.
"The College of Nursing and Health Professions is committed to lifelong learning," said Dr. Ann White, dean of the College of Nursing and Health Professions. "Nursing and other health professions require continuing education to enhance knowledge, skills and competencies within their specialties. Very few programs are awarded ANCC Accreditation with Distinction, so to earn this rating affirms the quality of our educational programs and conferences."
The College has provided continuing nursing education for 22 years—the last six years as an accredited provider by the American Nurses Credentialing Center's Commission on Accreditation.
Peggy Graul, USI coordinator of continuing education for nursing and health professions, and Karen Jones, director of online continuing education for health professions, provide leadership for all continuing education in the College. "This is the first opportunity we've had to receive the new designation of Accreditation with Distinction," said Graul. "And, it is an honor to be recognized by ANCC in meeting comprehensive, evidence-based criteria to ensure our continuing nursing education programs are planned, implemented and evaluated effectively."
Approximately 18 healthcare-related conferences and workshops are held annually on the USI campus. An estimated 2,000 healthcare professionals and lay persons attend these events, with topics ranging from research, evidence-based practice and nursing leadership, to pharmacology for advanced practice nurses.
As many as 18 online, continuing education certificate programs are offered at USI. Jones said annual enrollment is approximately 1,200 students, and learners come from all across the globe, including 50 states, every province in Canada and 59 countries.
ANCC accreditation is a voluntary, peer-reviewed process, intended to strengthen and sustain the quality and integrity of continuing nursing education, and make it worthy of public confidence. Accrediting organizations, like ANCC, assess providers of continuing nursing education to ensure they meet rigorous global standards.
For more information, visit http://www.usi.edu/health/continuing-education.