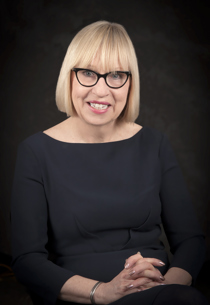 Kathryn M. Waters, professor of art, is the 2015 recipient of the Distinguished Professor Award at the University of Southern Indiana. The award will be presented during the 9 a.m. Commencement ceremony for the College of Liberal Arts on Saturday, May 2. She is being recognized for her leadership, teaching and creativity.
For over 30 years, Waters has made an outstanding and significant impact on USI and the community. Her leadership includes serving as chair and acting chair of the Art Department, interim associate dean of the College of Liberal Arts, visiting professor of art at Harlaxton College in Grantham, England, and her current positions of professor of art and director of the Kenneth P. McCutchan Art Center/Palmina F. and Stephen S. Pace Galleries.
As director of the McCutchan Art Center/Pace Galleries, Waters plans and directs implementation of five to seven shows annually. Her creativity and professionalism are evident in the quality of shows and artists who display works, including artists of international stature.
Teaching remains at the heart of what drives Waters and is evident in the energy with which she leads discussion and action in the department, and her efforts to help students be successful in their work. She develops the talents of students by showing them how to find their own aesthetic language, and supporting them compassionately and patiently as they clear a path to self-expression and fulfillment.
Waters provided leadership on the Efroymson Bridge Fellowship Committee, where she was instrumental in setting up the $10,000 post-undergraduate award and served as the mentor to the first recipient. She directed the student in advanced studies, facilitated her final exhibit, and helped her prepare for and get accepted to one of the top graduate programs in the country.
A measure of professional success among artists is achieving a one-person show in a gallery esteemed by critics, art historians and peer artists. Chicago's Wood Street Gallery is one such venue and, in 2000, it hosted one of Waters' one-person shows.  She participated in "Mind, Matter, Spirit," a traveling exhibit of 12 contemporary Indiana women artists, at the National Museum for Women in the Arts in Washington, D.C. the same year.  In 2015, she will be featured in the Master Teacher Series at the Evansville Museum of Arts, History and Science in celebration of USI's 50th anniversary.
Dr. Hillary Braysmith, associate professor of art and interim chair of the Art Department, described Waters' pictures as "often striking viewers as familiar experiences; but it is a borrowed familiarity – as if they happened upon someone else's memory of a similar but not identical moment."
Waters contributes to the community by serving on many boards and committees including the boards of New Harmony Gallery of Contemporary Art, the Hoosier Salon New Harmony, Alhambra Theatre, and Downtown Evansville Incorporated, on the Indianapolis Airport Art Selection Committee, Evansville Residency Committee and numerous committees at USI.
She has donated works of art to benefit the Evansville Museum, African-American Museum, Aids Resource Group, Evansville Philharmonic, Arts Council of Southwestern Indiana and the USI College of Liberal Arts.
Waters was the recipient of the USI Community Faculty Award and Phenomenal Women of USI Award in 2014, the USI Faculty Research and Creative Work Award in 2009 and 2013, the USI College of Liberal Arts Dean's Award for Scholarship and Creative Activity in 2007, national Visual Artist Residency Fellowships including Yaddo, Ragdale and the Virginia Center for the Arts and, most notably, the 2004 Mayor's Arts Awards Artist of the Year Award from the Arts Council of Southwestern Indiana.
In 1971, she received her bachelor's degree in art education from the University of Wisconsin, Madison, graduating magna cum laude. She then continued her education at Ohio University, obtaining her master's degree in fine arts in 1979.
Waters and her husband, writer and USI professor of English Matthew Graham, live in Evansville.
As recipient of the Distinguished Professor Award, Waters will receive a monetary award and will select a student to receive a scholarship in her name in the coming year. She also will deliver the address at USI's Fall Commencement in December.