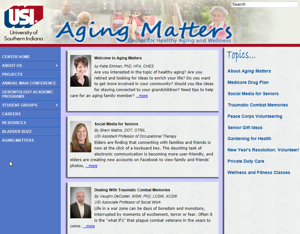 Are you interested in the topic of healthy aging? Are you retired and looking for ideas to enrich your life?  Do you want to get more involved in your community? Would you like ideas for staying connected to your grandchildren? Need tips to help care for an aging family member?
The University of Southern Indiana's Center for Healthy Aging and Wellness has recently unveiled a new series of columns to provide insights on these topics and more. The center, housed in USI's College of Nursing and Health Professions, is dedicated to advancing the understanding of aging and promoting the well‐being of older adults through education, research, and community partnerships.
"Aging Matters", bi-weekly columns published in the Modern Maturity section of the Mount Vernon Democrat, are designed from a holistic perspective on healthy aging. With advances in technology and healthcare, today's elders are not making the same choices as those made by previous generations. However, there are things we can do to make growing older easier. "Aging Matters" aims to explore some of these choices and opportunities.
Featured columnists come from a variety of backgrounds, including an interdisciplinary group of USI faculty, representatives from SWIRCA and More, healthcare and wellness professionals, and Tri-state retirees.
"The Center for Healthy Aging and Wellness is excited to introduce the 'Aging Matters' website," said Dr. Katie Ehlman, assistant professor of gerontology and director of the Center for Healthy Aging and Wellness. "Our hope is that those who follow our 'Aging Matters' website will benefit from the wisdom, expertise, and knowledge shared by our columnists for themselves or for loved ones for whom they are caring."
Read the columns published since "Aging Matters" began in September 2012 here. Links are listed below for columns written by USI faculty members.
Welcome to Aging Matters
by Dr. Katie Ehlman
Director of the USI Center for Healthy Aging and Wellness
Dealing with Traumatic Combat Memories
by Dr. Vaughn DeCoster
USI associate professor of social work
Social Media for Seniors
by Dr. Sherri Mathis
USI assistant professor of occupational therapy
In the coming months, look for columns which share information about memory loss, housing options, family caregiving, and immunizations, as well as many more topics.