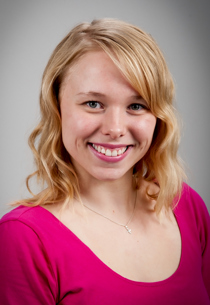 Ashley Hilton, a first-generation college student, will graduate summa cum laude with a Bachelor of Social Work degree from the University of Southern Indiana. During the Commencement ceremony for the College of Liberal Arts at 6 p.m., Saturday, May 4, she will receive the President's Medal, the highest honor presented to a graduate in the Class of 2013.
Hilton is the first member of her family to graduate from college. She attends USI as a 21st Century Scholar, receiving the Virgil E. and Charles R. Morris Scholarship from the Indiana Laborer's Training Trust Fund and other scholarships.
A member of the USI Honors Program, Hilton served as secretary of the USI chapter of Phi Alpha National Honor Society, an organization which promotes academic success along with humanitarian goals and ideals among students of social work. She also is a member of Alpha Kappa Psi, USI's professional business fraternity.
In her time at USI, Hilton worked 450 unpaid internship hours with the USI Center for Social Justice and Destination Home, a community collaboration effort with Aurora and other agencies working to combat homelessness. "Exposed to a range of constituencies from diverse social and cultural backgrounds, Ashley demonstrated respect for others. She is clearly committed to social justice as she advocates for underserved populations and the removal of inequality for marginalized populations," said Christy Baker, associate professor and director of USI's Bachelor of Social Work program.
Hilton has also volunteered for St. Vincent Center for Children and Families, Center for Courageous Kids camp, Potter's Wheel Soup Kitchen, Boys and Girls Club, and Relay for Life.
Hilton's future plans include obtaining a certificate in Business Administration so she can create and maintain a non-profit organization whose services are centered upon young, at-risk women and girls. Within the next five years she wants to work with an international non-government organization that advocates for the equality of women and girls in developing countries.
She is the daughter of Scott and Sonja Hilton of Terre Haute. She graduated from Terre Haute South High School, where her sister Haley is a junior.
Other finalists for the President's Medal from the Class of 2013 are Susan Ellsperman, Lauren Perigo, Katherine Belsito, and Ellena Stumpf. The Student Affairs Committee of the Faculty Senate selects the President's Medal recipient.