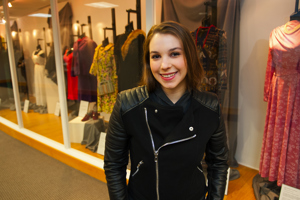 Each year, a University of Southern Indiana art major has the opportunity to work side-by-side with art professionals and the USI Art Collection at the University's McCutchan Art Center/Pace Galleries, McCutchan Exhibition Space, and New Harmony Gallery of Contemporary Art through the College of Liberal Arts James A. Sanders Fellowship.
This year's Sanders Fellow, Adrienne Eades, spent the fall semester assisting Susan Sauls, registrar for the USI Art Collection. Among other duties, Eades curated the Beardsley Collection of vintage clothing currently on display in the Wright Administration Building's McCutchan Exhibition Space.
The Beardsley Collection, a gift to the University Special Collections from Evadean Gordon in 2012, includes an assortment of women's, men's, and children's clothing and accessories dating from 1860 to 1970. 
The garments were carefully stored with tissue paper between the folds of the fabric in the USI Archives vault. Eades went through the items of clothing one by one, selecting, matching, and accessorizing them for display. She chose pieces that represent the wide range of clothing and accessories in the Beardsley Collection.
"Our society is what we do in clothes," she said. "Some of the clothes, especially the older house dresses, still have stains on them, so I could imagine women cooking in them. Some of the fancier dresses, I'd imagine parties or events women would go to."
Eades has a personal interest in vintage clothing and fashion, and working with the Beardsley Collection allowed her to research how other museums display clothing, and think about fashion both as art and as a reflection of a culture and its values.
Her favorite item in the collection is a black cocktail dress from the 1960s. The dress was designed by Don Loper, whose work is also on display in the Los Angeles County Museum of Art.               
 "While assembling and researching clothing for this exhibit, I thought about the similarities and differences between fashion from the time periods of the Beardsley Collection and present day," she said. "Our society treats fashion as a sort of 'fast food' that is quickly consumed and thrown out. Consumers buy clothes at a higher rate than in earlier decades, yet clothes are not made with as much attention to detail and do not last as long." 
This semester, Eades is working with Garry Holstein, director, at the New Harmony Gallery of Contemporary Art. Holstein said the Sanders Fellowship gives the student a hands-on experience of gallery operations and cultivates an awareness of professional practices necessary to the development of the student's career.
 "I believe Adrienne has gained a new perspective on the amount of hard work and dedication essential to attain success in the arts, and has certainly shown herself to have the resolve to reach her goals," he said.
After graduation from USI, Eades is considering going to graduate school for costume studies. "I could eventually work in a fashion museum," she said. "The fellowship made me think that could be a career opportunity, because there are museums dedicated to fashion."
"I'm grateful I was picked for the fellowship," she continued. "At other universities there aren't multiple galleries where you can work. This is a rare situation that a university puts such emphasis on the arts in their community, and that USI students can have such a hands-on experience with it is even more rare."