Sorrells acknowledged for innovative initiatives
Sorrells acknowledged for innovative initiatives
4/15/2013 |
University Communications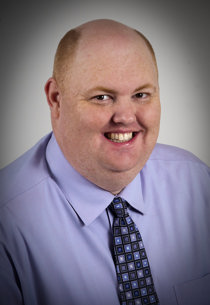 Darrin Sorrells, learning assistant specialist in University Division's Academic Skills, received the Innovative Academic Support Initiative Award at the 2013 American College Personnel Association (ACPA) Commission on Academic Support in Higher Education Awards ceremony held in Las Vegas in March.
Since joining USI in fall 2010, Sorrells has:
Established the Academic Skills athletic peer coach program, in which senior student athletes assist other student athletes with the transition to college and overall success strategies.
Secured a Majors as Home grant from the Office of the Provost to start a textbook lending program for students in selected science courses (biology, chemistry, and physics).
Secured a Majors as Home grant, along with Dr. Deanna Odney, writing specialist in Academic Skills, to host an Honors Banquet for University Division students.  The first banquet will be held this month.
Helped implement and oversee efforts in support of the University's strategic goal of "24x7 campus," including Tutoring Tuesdays in the Recreation, Fitness, and Wellness Center, learning assistance sessions in the David L. Rice Library, and collaborations with the Department of Modern and Classical Languages, the USI Multicultural Center, and International Programs.
Assisted with the creation and implementation of the University Division Strategic Plan, which is aligned with the campus strategic plan. 
More than doubled the number of students employed as business, science, and liberal arts tutors in Academic Skills—supporting an objective of the campus strategic plan to provide increased on-campus employment opportunities for USI students.
"Darrin has been a wonderful asset for University Division and Academic Skills and this award is a validation of the hard work and effort that Darrin displays every day here on campus," said Michael "Brody" Broshears, director of University Division. "Darrin has been a positive role model for students, staff, and faculty alike. He works hard, yet has fun, all while keeping the student's experience at the heart of what he does – this unique combination is contagious and appreciated by those that work with him every day."
Sorrells was formerly employed by Indiana University.