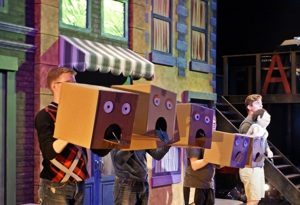 Avenue Q, based on an original concept with music and lyric by Robert Lopez and Jeff Marx, closes the spring productions for USI Theatre beginning on Friday, April 12. The show explores the life of its main character, Princeton, as he tries to find a purpose while dealing with a complicated, yet hilarious, love life.
Eric Altheide, assistant professor of theatre and director of Avenue Q, will be joined by a design team of USI faculty and students including Shan Jensen, associate professor of theatre, and Whitney Claytor as costume and puppet designers; Nate Sinnott, assistant professor of theatre, as scenic designer; Pam Atha, adjunct faculty for theatre, as choreographer; Patrick Ritsch as music director; Erik McCandless as lighting designer; Michael Frohbieter and Mikael Drobny as co-sound designers; Kevin Hawkins, AJ Jones, and Adam Woodruff as co-animation designers; and Craig Patterson as projection designer and programmer.
The cast includes USI students Geoff Bach as Nicky, Brandis DeWilligen as Christmas Eve, Emily Durchholz as Kate Monster, Daniel Harris as the male understudy, Kevin Hawkins as Rod, Alexander F. Hellenberg as Boy Bear, AJ Jones as Trekkie Second and the Newcomer, Taylor Kearschner as Girl Bear and Mrs. Thistletwat, Antonio King as Trekkie Monster, Patrick Litteken as Brian, Presley Roy as Lucy T Slut, Adrian Small as Gary Coleman, Michelle Walker as Nicky Second and the female understudy, and Adam Woodruff as Princeton.
USI Theatre's spring production opens Friday, April 12, and runs through the following Saturday, April 20, with Monday and Tuesday as days off for the show during the one-week run. The play will be staged at 7:30 p.m. April 12-13 and April 17-20, and 2 p.m. Sunday, April 14, in the Mallette Studio Theatre on the lower level of the Liberal Arts Center on USI's campus.
Tickets are $10 for USI students, $15 for adults, and $13 for seniors (60+) and non-USI students. To purchase tickets or for more information, visit www.usi.edu/theatre or call the box office at 812/465-1668.
Production contains adult themes and language.