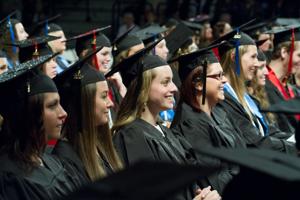 Five speakers delivered inspiring personal stories to graduates of the University of Southern Indiana ceremony for the Romain College of Business, Pott College of Science, Engineering, and Education, the College of Liberal Arts, and the College of Nursing and Health Professions, as well as graduate students, in Commencement ceremonies held over two days on USI's campus—the second time the ceremony has been held on campus since 1991.
Nearly 1,000 students walked across the stage to receive their diplomas in the Spring 2013 Commencement ceremonies May 3 and 4 in the Physical Activities Center. Among those participating were 19 summa cum laude graduates, 120 magna cum laude graduates, 172 cum laude graduates, and 37 University Honors Scholars.
Keynote speakers, all alumni distinguished in their fields, shared words of wisdom with graduates.
David Goodman advised students in the Romain College of Business' Commencement ceremony that people matter more than widgets. Goodman is the chief executive officer of Advanced Green Technologies and the chief executive officer of Edenark Group.
At the end of the day, success or failure depends on [the] ability to connect with, motivate, and support people. Whatever it is you do, the technical skills you've learned during college will only serve you if you can manage yourself when working with other people.
Rhonda Brown, alumna and recipient of the 2011-2012 Albert Einstein Distinguished Educator Fellowship, inspired Pott College students to not be daunted if their future careers took a few detours.
There are thousands of versions because the path to success is not the same for everyone. And as my own journey attests, the path to success may take many twists and turns along the way.
Paul Ramsey, assistant professor of education at Eastern Michigan University and editor of American Educational History Journal, encouraged liberal arts students to challenge the status quo in his speech, which was read by Dr. Casey Harison, professor of history, due to a sudden death in Ramsey's family.
You all are prepared to achieve your professional goals, whatever they might be. In fact, I would argue that because of your liberal arts background, you are in a position where the possibilities are endless.  That is to say, despite your different academic majors—whether in sociology, history, or art—you have been educated to think broadly, creatively, and critically, skills that are desperately needed today. 
I challenge you all to use your liberal arts degree not only to get a secure and engaging career…but also to be critical thinkers and active citizens—locally, nationally, and globally—by challenging the elements of hatred, violence, and absurdity embedded within the status quo. 
Elizabeth J. Brown, one of the first graduates of USI's undergraduate nursing program, reminded College of Nursing and Health Professions graduates of Napoleon Hill's words "What the mind of man can conceive and believe, it can achieve," and to follow seven ideals in life: Give back, Love, Attitude, Courage, Humanity, Perseverance, and Learning.
Chad Hartmann, veteran teacher and 2012 Peabody Outstanding Leader in Education, reminded graduate students that every choice they make in life leads somewhere. 
I ask you to consider three very different words – fears, hopes, and mistakes.  Whether you consider it or not, those three small words really do affect just about every decision you make big or small.  Fears, hopes, and mistakes.
Pope John Paul the 23rd said the following:  "Consult not your fears but your hopes and your dreams. Think not about your frustrations, but about your unfulfilled potential. Concern yourself not with what you tried and failed in, but with what it is still possible for you to do."