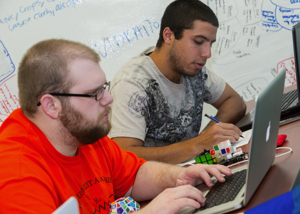 USI students from engineering and business disciplines have come together once again for this year's summer Technology Commercialization Academy (TCA). This is the second year for the program, which piloted in 2012.
Academy participants work full time to develop ideas and business strategies around commercialization of several Naval Surface Warfare Center, Crane Division (NSWC Crane) patents. This year's TCA has been expanded to include more students and additional time for independent work.
In this year's Academy, students explored NSWC Crane military patents for radio intelligence, the intuitive interface initiative, and the fire control laser model. From radio intelligence technology, students have developed four tentative final products: a wristband that will track children, wait times for rides, and cash and ticketing information in amusement parks; an inventory tracker for retail establishments and warehouses; a device to track customers inside stores; and a device for institutions that will track people and help identify potential emergency or disaster situations using location patterns.
Students in the Academy, which kicked off on May 13, meet for two hours each day with faculty and spend another six hours each day working on their projects. Students utilize USI resources to develop a manufacturing plan and produce prototypes of selected technologies. They also complete preliminary market research and feasibility analyses. The Academy includes four teams of four students, each with two business and two engineering students.
The first segment of the TCA will conclude with final product pitches. Teams with high-potential technologies will have the opportunity to continue in the Academy for an additional five weeks, wrapping up in mid-July. With the additional time, teams are encouraged to license and further develop their technologies, form startups, and reach out to potential customers and investors.
Growth Alliance for Greater Evansville (GAGE) in collaboration with USI came up with the Academy idea in their Tech Transfer Committee. The academy was made possible through a Lilly Endowment Sustaining Grant secured by Dr. Mohammed Khayum, dean of the Romain College of Business, and Dr. Scott Gordon, dean of the Pott College of Science, Engineering, and Education.
"This is an extremely important project for us to gain insights into and increase the pace of technology transfer between Crane, USI, and others in southwestern Indiana," said Dr. Khayum.
Debbie Dewey, president of GAGE, delivered the closing remarks at last year's final presentations. "This project has been transformational for USI, Crane, GAGE, and our region," she said.
If you go
Each team in the 2013 TCA will pitch its final idea and unveil a prototype at 10 a.m. (CDT), Friday, June 14, in the atrium of the USI Business and Engineering Center on campus. Teams will also pitch off campus at 1:30 p.m. (EDT), Wednesday, June 12, at WestGate Academy in Odon, Indiana.
Interested businesses, media, and others from the community are invited to attend either event.