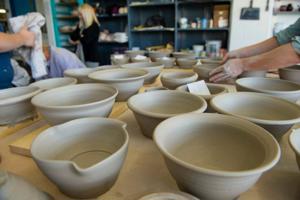 It's time to get your hands dirty for a great cause, USI! Last year, 500 ceramic bowls were spun and sold through the Empty Bowls initiative with proceeds donated to combat hunger in our community. Alisa (Al) Holen, assistant professor of ceramics, is rallying faculty and staff to again create bowls during the Bowl-a-Rama taking place Friday, September 27, in the USI Ceramics Center, located behind the Tech Center. No experience is necessary; Holen and her ceramics students will be available to help novice potters.
Empty Bowls is a national non-profit which lends its name to organizations who raise money to feed the hungry by making and selling ceramic bowls. This is the fourth time Holen has organized an Empty Bowls event, and the second time with USI. She, along with the help of students and volunteers, generated a $7,000 contribution shared between the United Caring Shelters of Evansville and the Tri-State Food Bank through the sale of bowls made during the 2012 Bowl-a-Rama.
As part of the service learning element added to her ceramics classes, Holen's students research local food-based charities to determine which ones to support. "They interview the charity, find out about funding needs, the impact on the community, who the charity caters to," she said, adding "they then vote on where the money will go."
Holen feels it is essential that her students learn how to use their newly acquired skills and talents to help with community needs. "I think it's important to illustrate to students how their skills in the arts can be used for collaboration within the community," she said.
USI faculty and staff are encouraged to participate anytime between noon and 6 p.m., Friday, September 27. Holen said those attending may come and stay an hour or spend the day. There are 20 pottery wheels available on a first come, first served basis, but additional stations for hand molding clay will be set up in case of a rush.
"I had been saying for years that I wanted to take a ceramics class and had never done so," said first-timer, Virginia Thomas, administrative assistant for art and performing art, adding "this was an opportune time to learn a little about throwing clay and to help raise money for local charities. I can't wait to participate again this year – it was so much fun."
Participation is free, and volunteers should dress in old clothes that can get dirty. Rings and watches should be removed in advance, and open-toed shoes will not be permitted in the Ceramics Center.
Twilight Bistro will once again provide a variety of delicious soup options to fill the handmade bowls as part of the Empty Bowls sale from 11 a.m. to 2 p.m., November 9 at the Alhambra Theatre Gallery located at 56 Adams Ave. Additionally, Holen is still searching for a beverage supplier and asks that anyone who may have a connection or suggestion contact her at aiholen@usi.edu or 812/288-5127.
See video footage of the 2012 Bowl-a-Rama and Empty Bowls. ♦