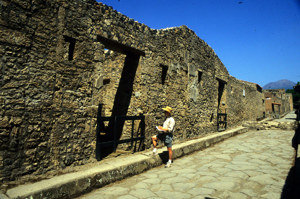 The University of Southern Indiana's College of Liberal Arts and Center for Interdisciplinary Studies will host the first in a series of events on Monday associated with "Roads," the 2013 Interdisciplinary Colloquium to be held in early October.
Dr. Alan Kaiser, associate professor of archaeology at the University of Evansville, will present, "How Roman Roads Changed Roman Lives" at 6 p.m., Monday (September 9) in Kleymeyer Hall in the Liberal Arts Center.
Daniela Vidal, director of USI's Center for Applied Research and Economic Development, will present "A Road Back Home: How can I-69 Stop the Brain Drain in Southern Indiana?" at 7 p.m. Thursday, October 3, in Carter Hall in the University Center.
The colloquium, with presentations from USI faculty from across the University on the "Roads" theme, will be held from 9 a.m. to 3 p.m. Friday, October 4, in Carter Hall.
A reception will be held from 3 to 4 p.m., including a screening of the documentary film "In Harmony's Way: The Battle to Save the Bridge," produced by Dave Black, assistant professor of communications.
"Roads" is the ninth interdisciplinary colloquium sponsored by the Center for Interdisciplinary Studies and the College of Liberal Arts.
For more information, including a schedule of events and abstracts of presentations, go to www.usi.edu/libarts/intl/2013.asp.