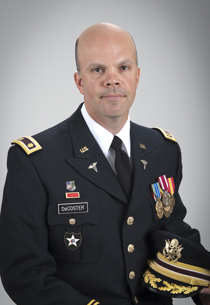 Being deployed to Baghdad, Iraq was anticipated by Dr. Vaughn DeCoster, associate professor of social work and director of the Master of Social Work program, when he sought a commission with the Army Reserves in 2004. A tenured professor at the University of Arkansas and already a licensed clinical social worker, DeCoster had treated soldiers with mental health issues such as post-traumatic stress disorder (PTSD) during his initial Reserve assignment with the 113th Combat Stress Control Company. But serving in Iraq was a new challenge. "We were there during the three deadliest periods where there were more than 100 fatalities each month," DeCoster said.
His primary task as a clinical social worker was preventative mental health care, but due to lack of providers, he also treated those whose stress levels had progressed into a diagnosable mental illness. DeCoster was the OIC, or Officer in Charge, and led a five person combat stress team. Many soldiers had been deployed multiple times which meant DeCoster and his team often were treating soldiers in active combat for past traumas. He spoke of the unique challenge of living in the same conditions and facing the same stressors as the patients he was treating.
"It's not like you can go home and get a weekend off," he said. "You're facing the same attacks and fire. You're traveling the same routes where soldiers are being killed." Although training is provided as a part of clinical practice, DeCoster said it took him nearly five years to readjust into what he calls his "new normal." "And I'm a doctoral-level clinical social worker, with clinical friends, an intact family, and a great job. I really feel for enlisted soldiers who aren't as fortunate as I was to have all the support and encouragement."
There are currently 236 students reported on the USI campus collecting veteran benefits according to Steve Rayner, Veteran Support Services associate. Because of his own personal experience, DeCoster realizes the special problems and circumstances that many student veterans may face when transitioning from life as an active-duty soldier to life as a college student. "They've grown up a lot faster than they should have and are going to be at a different stage," he said. "They're shifting from being in charge of millions of dollars' worth of equipment and other people's lives, and earning accolades to starting over again at a beginning college level."
Together with other members of faculty veterans at USI, DeCoster has looked for ways to increase faculty and staff training and awareness. He'd like to see an initiative which emulates the success of the Safe Zone training, which has provided education for faculty and staff concerning the special issues facing the gay, lesbian, bisexual, transsexual, or transgendered (GLBT) community, and a safe haven for GLBT students.
During his time at the University of Arkansas, a training program called "Boots to Books" was offered, which gave basic instruction to faculty and staff – a "Military 101", so to speak. It also helped student veterans navigate from the military mindset to academia. Increasing visibility of potential mentors and support systems at USI could add strength to an already veteran friendly campus. "I know there are students who need help and folks who want to help; we just need to connect the dots," he said.
Connecting those dots may become easier when a newly-chartered American Legion post takes root on campus this year. The Brock Babb Post, No. 324, was named for an Evansville native and marine who lost his life during combat in Iraq in 2006. The new post is located in the Veterans' Support Services office in room 0114 of the Education Center. (See full story.) ♦