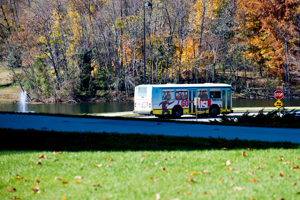 The University of Southern Indiana has partnered with the Metropolitan Evansville Transit System (METS) to offer a new real-time transit information system called DoubleMap. DoubleMap can be downloaded free as an app on iPhone and Android devices and gives students, faculty, and staff instant real-time GPS location of buses serving the campus community including the METS West Connection and the USI Campus Shuttles.
The service is live and available for use immediately. "This new service is will help keep our students and the rest of the campus community informed when it comes to transportation options," said Steve Woodall, director of Public Safety at USI. "It's going to be a helpful service for everyone."
Woodall said he first heard about the DoubleMap service from Jordan Whitledge, a 2013 graduate and past president of the Student Government Association. Whitledge became aware of the system during a trip to Indiana University where the DoubleMap service was already in place. Woodall began looking into the service and worked with METS to put the technology on buses serving the campus community as a test of the new technology.
The free DoubleMap app can be downloaded on most mobile devices and also is available online for PCs, laptops, and tablet devices. The app allows users to view all routes or isolate only the route they are interested in. The interface, which uses Google Maps, shows both the user's location as well as the location of buses as they progress along selected routes. For USI, Campus Shuttle routes show in blue, while METS West Connection routes show in red. Riders can click on specific stops to get estimated time of arrival information. So far, the system has been installed on the two METS West Connection buses and on four USI Campus Shuttles.
Users can search for other communities using the DoubleMap service as well.
A dashboard feature allows USI's Office of Public Safety to monitor buses and to add special announcements such as weather related delays or cancellations, changed routes, and other information that might affect riders.
DoubleMap can be downloaded from Apple's App Store or online at www.doublemap.com. Once downloaded, simply search for and select the University of Southern Indiana.
New Bus Routes and Schedule
USI recently revamped its Campus Shuttle and METS West Connection routes to better serve the campus community. The new routes, free for students providing a valid University ID (Eagle Access Card), include several new stops including the Romain College of Business, the Health Professions Center, and points along Clarke Lane.
Complete schedules and route maps can be found on the Office of Public Safety website.