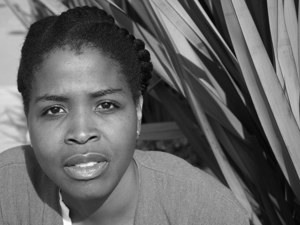 Attention: This event has been canceled.
The fall 2013 RopeWalk Reading Series will continue with a reading by Arisa White at 5 p.m. on Thursday, November 7 in the University of Southern Indiana's Traditions Lounge in University Center East. A reception and book signing will follow.
White is a Cave Canem fellow and the author of the chapbooks Disposition for Shininess and Post Pardon (which will soon be made into an opera), as well as the full-length collections Hurrah's Nest and A Penny Saved. Her debut collection, Hurrah's Nest, won the 2012 San Francisco Book Festival Award for poetry and was nominated for a NAACP Image Award, among other accolades. A member of the PlayGround writers' pool, her play Frigidare was staged for the 15th Annual Best of PlayGround Festival.
A recipient of the inaugural Rose O'Neill Literary House summer residency at Washington College in Maryland, White also has received residencies, fellowships, or scholarships from Port Townsend Writers' Conference, Squaw Valley Community of Writers, Hedgebrook, Atlantic Center for the Arts, Prague Summer Program, Fine Arts Work Center, and Bread Loaf Writers' Conference. Nominated for a Pushcart Prize in 2005, her poetry has been published widely and is featured on the recording WORD with the Jessica Jones Quartet.
White holds a Master of Fine Arts degree from the University of Massachusetts, Amherst. She is currently co-editor for HER KIND, an online literary community powered by VIDA: Women in Literary Arts, and editorial manager for Dance Studio Life magazine. She also is an advisory board member for Flying Object and a creative writing faculty member at Goddard College.
Publications by White are available for purchase at the USI Campus Store and Barnes and Noble Booksellers. 
Presented by USI's College of Liberal Arts, the RopeWalk Visiting Writers Reading Series is made possible through the support of Southern Indiana Review,USI Society for Arts and Humanities, National Endowment for the Arts, Indiana Arts Commission, and the USI Student Writers Union. 
For more information, contact Nicole Louise Reid, director of the RopeWalk Reading Series, at 812/464-1916.