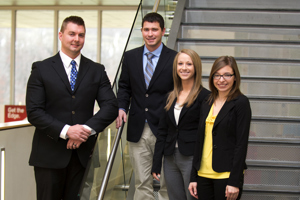 The University of Southern Indiana's Romain College of Business placed third and won $2,500 in the 2013 American Institute of Certified Public Accountants (AICPA) case competition in Washington, D.C. December 20. 
"USI's team worked very hard, and spent many hours, preparing for the competition. It was especially challenging for our students, since the final round of the competition was held during final exams and all of our students had to multi-task in order to complete the semester and participate in the competition," said Dr. Brian McGuire, associate dean of the Romain College of Business and director of accounting programs. "I really had to admire what they were able to accomplish." 
In the AICPA competition, USI's students competed against more than 150 teams from universities nationwide. The USI team members were accounting majors Bryant Cornelius of Oden, Brooke Neuhoff of Huntingburg, Nick Muensterman and Lauren Perigo of Evansville. Timothy Bryan, instructor in accounting, served as faculty advisor for the team. 
Earlier this year, another team of accounting students won the Institute of Management Accountants (IMA) national case competition in New Orleans at IMA's 94th Annual Conference and Exposition. 
In the last decade, USI accounting students have won nine case competitions sponsored by the IMA and the Indiana CPA Society.