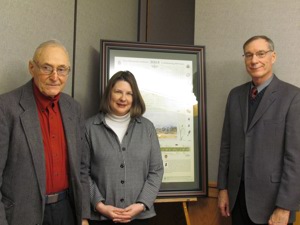 The University of Southern Indiana Foundation and Historic New Harmony, along with Bill Muller and other members of the Rapp Granary-Owen Foundation and the New Harmony Bicentennial Commission held a reception on Tuesday, December 10 to present the Indiana Geological Survey's "Celebrating 200 Years" calendar to USI family and friends.
The calendar details feature a historical timeline of New Harmony, accented by building designs and a full-color photo of Jane Blaffer Owen, the wife of Kenneth Dale Owen (a descendant of Robert Owen, founder of the second utopian experiment in New Harmony); many species and fossils catalogued, illustrated, and printed in New Harmony; and of course, a labyrinth.
David Dale Owen, son of Robert Owen, led the first geological surveys of Indiana, Kentucky, and Arkansas. Recognizing Owen's founding role in the surveys, John C. Steinmetz, the current State Geologist of Indiana, has had long-standing ties to New Harmony and the Rapp Granary. Each year, the Indiana Geological Survey produces a calendar which focuses on an important part of Indiana's geologic heritage. In 2012, the calendar celebrated the 175th anniversary of the Indiana Geological Survey, and included a portrait of David Dale Owen and other New Harmony references, citing the role of Owen and New Harmony as the foundation of the Survey. The 2014 calendar celebrates New Harmony's founding in 1814 and features New Harmony's rich history.
A framed calendar will hang in USI's David L. Rice Library. The Indiana Survey sends the calendar to every Geological Survey in the United States and to many other people and organizations throughout Indiana. While supplies last, the Rapp Granary co-trustees will have the calendar available upon request.
To request a calendar, contact Chris Laughbaum at 812/682-3050 or ChrisJKSC@aol.com.