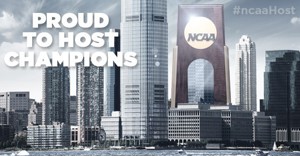 The NCAA announced today that the University of Southern Indiana and the Evansville Sports Corporation have been chosen to co-host the 2015 NCAA Division II Men's Basketball Elite Eight at the Ford Center and the 2017 NCAA II Cross Country National Championships at Angel Mounds. The official news release  (video version) is available on the NCAA's web site www.ncaa.com.
 
"Hosting two NCAA national championships and three regionals over the course of the next four years is a great accomplishment for this community," said Jason Sands, executive director of the Evansville Sports Corporation. 
 
Evansville has a rich history of hosting NCAA national championship events for both men's basketball and men's and women's cross country. The city hosted the NCA Division II men's basketball championship from 1957-75, 2002, and this year's championships in March. USI and Evansville have hosted the NCAA II men's and women's cross country championships in 1986, 2004, and 2009.
 
In addition to the cross country national championships in 2017, USI and Evansville will host the 2014, 2015, and 2016 NCAA II Midwest Regionals at Angel Mounds.
 
"Bringing the Division II championships to Evansville is a big win for us," said Jon Mark Hall, USI director of athletics. "It is nice to have a partner organization like the Evansville Sports Corporation to help attract major events like this to our region. An added plus is the great facility like the Ford Center and site like Angel Mounds to host these outstanding championships."
 
Officially formed in 2010, the Evansville Sports Corporation has been instrumental in bringing major sporting events to the region, which creates an economic impact to the region.  Other national and regional events include the 2012-2014 PGA Tour's Web.com Tour; the 2012 and 2013 Great Lakes Valley Conference Baseball Tournament; and the 2013 and 2014 GLVC Basketball Tournaments.
 
The USI men's basketball team, which is currently ranked ninth in the NABC/NCAA Division II Top 25 poll, has advanced to the Elite Eight three times in the history of the program (1994 Springfield, Massachusetts; 1995 Louisville, Kentucky; and 2004 Bakersfield, California) and won the Division II national title in 1995. 
 
The USI men's cross country team finished the 2013 season with an 11th-place finish at the NCAA II National Championships after winning its ninth-straight GLVC championship. The Screaming Eagles, who have appeared in the national championships 20 times since 1980, posted their best finishes in 1982 and 1983, placing third and fifth, respectively. The Eagles were sixth when USI hosted the championships in 2009.
 
The USI women's cross country team, which won its third-straight GLVC title this past fall, has appeared in the national championships nine times since 1997. The Eagles posted their best finishes in 1998 and 1999, placing eighth and ninth, respectively. Mary Ballinger posted USI's best individual finish at the 2009 NCAA II championships, posting a fifth-place showing.