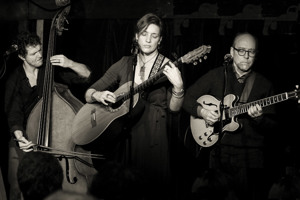 The University of Southern Indiana will present New York City-based singer-songwriter and activist Jen Chapin as a guest artist for a two-day residency March 18 and 19. Chapin will lead discussions on food justice issues and perform songs from her catalogue, including her "lush" (Los Angeles Times) internationally praised new album Reckoning. Chapin (on lead vocals and guitar), will be accompanied by her virtuosic Grammy-nominated acoustic bassist/husband Stephan Crump and the "unflappable melodist" (New York Times) Jamie Fox on guitar.

As much as an artistic legacy, the roots of Chapin's upbringing have inspired her "potent, jazzy, layered folk" (Newsday) songs and a lifetime of passionate activism, through ongoing work with WhyHunger (co-founded by her late father Harry Chapin), and other food justice groups. "Part of what I'll be trying to share with the students and faculty is a hopeful perspective on the wider food movement and how new alliances are energizing and diversifying the fight for food justice locally and globally," said Chapin.

Reckoning, produced by five-time Grammy Award Winner, Kevin Killen, has received raves from fans and critics alike, earning comparisons to Ani DiFranco, Joni Mitchell, and Paul Simon. Robert Myers, Elmore Magazine, wrote it is "the most mature and satisfying album of her career . . . stunningly brilliant . . . Reckoning is a subtle, sophisticated recording that grows in stature with each listening and is well worth your consideration."

One of the songs on Reckoning, "Feed Your Baby," an intimate portrait of a broken food system, has been making its way around the digital world, with a feature on the blog of nutrition expert/food justice icon Marion Nestle, Danielle Nierenberg's Foodtank.org and on the Brazilian site Glamurama.

The schedule includes a performance and discussion at 1:30 p.m. on Tuesday, March 18 in Mitchell Auditorium in the Health Professions Center. Performances also are scheduled on Wednesday, March 19 at noon in Education Center 1101 and at 7:30 p.m. at Sara's Harmony Way located at 500 Church Street in New Harmony, Indiana. Those who wish to attend the performance in New Harmony must be 21 or over.

All events are free and open to the public. Participants are encouraged to bring non-perishable food items to support the Tri-State Food Bank or the New Harmony Food Pantry.

Sponsors for these events include USI's College of Liberal Arts (Center for Social Justice Education), College of Nursing and Health Professions, Division of Outreach and Engagement, and Historic New Harmony.

For more information, email Andrea Sinnett, administrative associate in USI's Division of Outreach and Engagement, at amsinnett@usi.edu.