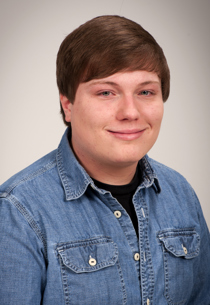 James Vaughn, a junior journalism major hailing from Indianapolis, will soon be topping the masthead as the new editor in chief of the University of Southern Indiana student newspaper, The Shield during the 2014-15 academic year. Vaughn has served as news editor, reporter, and staff writer for the paper since January 2012, and looks forward to the responsibilities the new position holds. He takes the reigns from current editor in chief, Shannon Hall in fall 2014.
During his time working for The Shield, Vaughn has taken the time to analyze what does and doesn't work. "I share one goal with all former editors of The Shield –retain readership," he said. "But a secondary goal – my goal – is transparency. In other words, make what we are distributing to our readers understandable for our readers." He plans to do this by building upon his predecessor, Hall's ideas, and expanding into a more interactive avenue with the use of social media, photography, video, and blogs.
Erin Gibson, faculty adviser to The Shield, and instructor in journalism, understands that news must be distributed across an array of formats. In an on demand society, news must be timely, incorporating social media and visual elements. "James understands this and he recognizes that this understanding is what can set him apart in building his portfolio. He has this skill set," said Gibson.
In addition to his experience with The Shield, he brings reporting, photography, and videography skills from internships with The Shelbyville News and the Evansville Courier and Press. He also has an understanding of the role of a student publication. "It's role is to share knowledge – good and bad, be consistent and reliable, preserve history in a modern way, and promote dialogue between it and its readers," he said.
As to what kind of leader he hopes to be, Vaughn says, "It's important to be a developmental manager – to help and encourage reporters to develop their strengths and motivate them by providing professional development opportunities on a regular basis."
Andrea  Smithson served as Vaughn's supervisor during his internship with The Shelbyville News. She said of Vaughn, "James has a calm demeanor that would serve him well while juggling the stress of managing a student publication and his academic schedule. It's the same steady nature that would be a benefit when leading other students with less experience."
Applications for positions at The Shield are available online or in The Shield's office. To get involved, call 812-465-1682, or visit the office in the lower level of University Center East, Room 227.