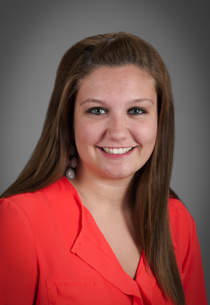 Elizabeth Cicchetti-Supal, a junior history major from Morganfield, Kentucky, received the Dain Garrett Merit Award. The award along with an $1800 scholarship is presented to a student who has overcome a significant obstacle. The scholarship was established by Dain Garrett, a USI student who despite struggling with muscular dystrophy, graduated summa cum laude. Garrett was the recipient of numerous cash awards given by the USI History Department, and used those funds to establish an annual cash prize to help other USI students facing hardships. He passed away just prior to receiving a master's degree from California State University Dominguez Hills.
Cicchetti-Supal, the first in her family to attend college, began her academic journey at Henderson Community College before transferring to USI. Along with paying her own way through college, she also makes the one-hour drive from Morganfield to Evansville to attend classes full-time, while also working up to five days a week. "I wasn't the typical teenager," said Cicchetti-Supal. "When I moved out, life was about going to school and going to work."
During her time at USI, Cicchetti-Supal says her enthusiasm for education has grown. Along with her major in history, she also minors in education and political science.
After graduation, she plans to teach secondary education, and gradually work toward a doctorate in American history. "Education is important to me. I want to not only teach history, I want to prepare students for college," she said. "If I wasn't so strong-willed, I don't think I would have made it, because college is a whole different atmosphere." The decision to teach was easy for Cicchetti-Supal, who recalls playing school and creating lessons with her younger brother.
Contributions to the Dain Garrett Merit Scholarship are accepted by the USI Foundation.