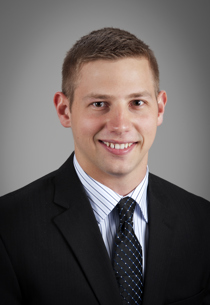 Jordan Morrison, a first-generation college student, will graduate magna cum laude with a Bachelor of Science degree in nursing from the University of Southern Indiana. During the Commencement ceremony for USI's College of Nursing and Health Professions at 9 a.m., Saturday, May 3, he will receive the President's Medal, the highest honor presented to a graduate in the Class of 2014.
Described by his professors and advisors as a "natural leader," Morrison has excelled in both academic and volunteer efforts while at USI. As a nursing student maintaining a 3.88 GPA, he was inducted into the Sigma Theta Tau International Nursing Honor Society in 2013 and was the recipient of the Who's Who Among Students in American Universities and Colleges award in 2012, 2013, and 2014. He was chosen by faculty to represent USI on the first Critical Care Dedicated Education Unit, a collaboration with Deaconess Hospital. He also was chosen to participate in USI's pilot program for Medical/Surgical Nursing Designation Educational Unit and the first Nursing Management Designated Educational Unit.
Over the course of his four years at USI, Morrison has served in multiple volunteer leadership roles including president of the Association of Nursing Students, chair of the Food Drive Committee, co-chair of the Fundraiser Committee, chair of the New Nursing Student Outreach Committee, and co-chair of the Community Outreach Committee.
Marilyn Ostendorf, assistant clinical professor of nursing, said, "Jordan demonstrates natural leadership ability and shows dynamic leadership qualities."
His volunteerism extends beyond the University. He is the director/founder of the Josh Suhrheinrich Memorial Scholarship Benefit for which he helped raise more than $4,000 in 2013. He also has volunteered for other benefit runs. He is involved in intramural softball, flag football, volleyball, basketball, and soccer. He also is involved with USI's Relay for Life, University Division Student Success Week, Evansville State Hospital Christmas gift program, and Drive4COPD Evansville Community Outreach.
His future plans include obtaining his license as a registered nurse in the state of Indiana and working in an intensive care unit setting. He also plans to pursue graduate studies toward a degree as a certified registered nurse anesthetist.
Morrison is the son of Adrian and Cynthia Morrison of Dale, Indiana. He has four older brothers, Josh, Jarod '03, Jody, and Jace.
Other finalists for the President's Medal from the Class of 2014 are Lauren Edwards, Sarah Krampe, Kayla McCarty, and Jarod Richards. The Student Affairs Committee of the Faculty Senate selects the President's Medal recipient.