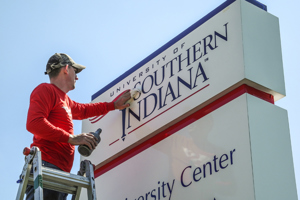 It's time to get excited about the new logos unveiled for USI this week! As we approach our 50th anniversary, we need to reignite our brand. It's a valuable asset, comprised of much more than just our academic and athletic logos. However, our logos carry a lot of weight. They're the single-most-used visual representation of who we are and who we aspire to be.
When we approached this task, we knew that we needed an image to convey our history but at the same time look to the future, and that image had to reflect the vision of our USI family, as well as all of our external audiences. We feel these new marks accomplish that, distilling the essence of the University into a few simple strokes.
Featuring the "Torch of Knowledge," the new academic logo borrows symbolism from the University's seal. The scarlet flame, burning bright above the "I" in Indiana or USI, signifies the illumination of knowledge and is reminiscent of an eagle's wing. In addition to the scarlet/red, the logo includes navy and white in the USI tradition. The crisp, clean font can be used as both a full wordmark and a stylized monogram.
A new tagline, "Knowledge for Life," also was announced in connection with the academic logo. "Knowledge for Life" is an element of our brand which will be used in conjunction with the logo and speaks to the University's primary academic mission of advancing education and knowledge.
Our athletic program was ready for a new look as well—a brand that represents the success of our outstanding student athletes and coaches. The athletic logo highlights the Screaming Eagle tradition, but the new eagle is more fierce, competitive, and proud. It will be rolled out for our athletic teams beginning summer and fall 2014. Our athletes will wear it with pride as they compete across the country in USI's 15 NCAA Division II sports.
Both logos were developed over a nine-month period in partnership with national design firm Rickabaugh Graphics. Rickabaugh is responsible for the logos of hundreds of universities across the nation, including Ohio State, Seton Hall, and Marquette. Their expertise was invaluable throughout the process.
While having a nationally-recognized designer was important, your input was needed too. The USI logo selection and implementation teams collected research and worked with dozens of focus groups—conducting surveys, and polling students, athletes, coaches, faculty, alumni, staff, retirees, and others, in an effort to maintain and build on the spirit of the USI brand. The resulting logos are your USI brand!
You are our brand ambassadors!
Now, we need your help in promoting and protecting our brand. We're all excited about the new logos and are ready to start putting them to use. However, consistency is the key. Proper use of the logos protects the University's image and sets us apart from other institutions. 
Through a series of brand web pages you'll find information on appropriate use of the logos, color choices, and typography, as well as application examples for the University and for respective colleges and departments. You'll also find a series of tools and templates that help incorporate the USI brand and logos into your work.
As the logos are rolled out, we realize you'll have questions: How should the new logos be used, and where can they be found? Do I need new business cards? What about my nametag? Does my department need to replace stationary and brochures with the old logos on them? What should my email signature look like, and how do I change it? How will the branding updates be implemented across campus?
You'll find answers to all of these questions and more in an online FAQ that is part of our new brand-standards website, www.usi.edu/brand. The site includes logos, templates, guidelines, and other resources that ensure brand consistency across the University. Implementing the new logos across all facets of the University will take time, but we've laid the foundation for a smooth transition. Each of you will play a big role in accomplishing that and in championing the USI brand.
Thank you for being a brand ambassador!
If you still have questions about the new brand and logos, you can contact Kindra Strupp, assistant vice president for Marketing and Communications at 812-464-1755, 812-464-1902, or kstrupp@usi.edu.