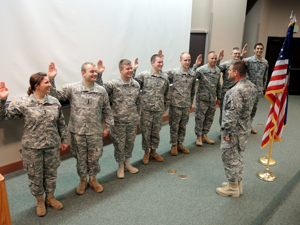 Nine cadets from the Reserve Officers Training Corps (ROTC) program will take the oath of office during a Commissioning Ceremony at 9 a.m. on Saturday, May 3 in Mitchell Auditorium in USI's Health Professions Center. With the words, "I, solemnly swear that I will support and defend the Constitution of the United States," the cadets will complete their transition to Army Officer and commit their lives to protecting the freedoms enjoyed by our country's citizens. This year's class will be the largest to graduate in over a decade.
The Commissioning Ceremony is a long-standing tradition that represents the end of a cadet's training and college career and marks his or her  first steps as leaders in the United States Army. Once commissioned, cadets become new officers and receive their diplomas as Second Lieutenants. The ceremony will begin with remarks by guest speaker, Lieutenant Colonel Mark Weaver, who had a direct impact on the establishment of the ROTC program at USI.
During their tenure as USI students, cadets receive specialized training that help mold them into effective leaders in military and civilian capacities. ROTC cadets live by the motto "Scholar, Athlete, Leader."
"Scholar" signifies a commitment to academic excellence, taking courses specific to their major on top of an ROTC curriculum that is designed to develop leaders as critical thinkers through complex problems, practical exercise, and course projects.
"Athletics" requires cadets to be physically fit which helps them become essential members of a team. Cadets learn how to work with one another, enhancing their strengths and minimizing their weaknesses. By attending physical training sessions three times a week, cadets are instilled with a sense of discipline that is critical to their future success. Training consist of multiple activities, ranging from group runs to team building activities. Physical fitness is measured by push-ups, sit-ups, and a two-mile run.
"Leader" signifies the constant development of cadets to energize others in achieving a common goal. Through experience gained in leadership positions, cadets learn how to bring out the best in others.
An official pinning and first salute also will take place at the ceremony. The pinning has personal significance, as cadets will be pinned Second Lieutenant by an individual who helped them along their path of becoming an officer. The first salute will mark the end of the ceremony and will represent the enlisted soldiers' respect of their new rank and position. In addition, newly commissioned officers will give a silver dollar to the first enlisted soldier to salute them signifying the gratitude the officer has for their mentorship.
For more information, contact Major Chris Dalrymple, assistant professor of military science, at 812-461-5304 or cmdalrympl@usi.edu.