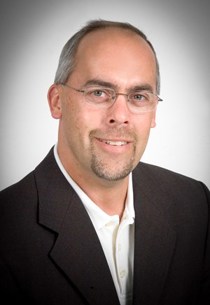 Dr. Kent Scheller, associate professor of physics, is the 2014 recipient of the Distinguished Professor Award at the University of Southern Indiana. The award will be presented during the noon USI Commencement ceremony for the Pott College of Science, Engineering, and Education on Saturday, May 3. The award was announced during the Honors Convocation for the college in April.
Scheller is being recognized for his teaching, scholarship, and service. Since his arrival at USI in 1999, he has taught at all levels in the physics curriculum—from Physics 101 for non-majors to upper- level physics classes. He was recognized in 2007 with the H. Lee Cooper Core Teaching Award for the creativity and success of his teaching.
Dr. Paul Doss, USI professor of geology, said, "The student evaluations of his teaching clearly describe a teacher with enthusiasm, the ability to conceptualize physics concepts for a range of student backgrounds, and the development of a strong rapport with his students."
In 2011, Scheller was selected through a competitive process by Indiana Governor Mitch Daniels to serve a two-year term as the faculty representative on the 14-member Indiana Commission for Higher Education. As the faculty appointee, he represented the interests of all faculty at publicly-supported institutions of higher education in Indiana. He was an active member and served with distinction, providing the voice of one who knows and understands the challenges and expectations of faculty in higher education today, and immediately gained the respect of fellow commissioners and university colleagues throughout the state.
He has published journal articles and presented papers on a multitude of topics including nuclear energy, radiation, and nuclear astrophysics, as well as education-related topics for instructional development. His current research is focused on the presence and nature of environmental radon in southwestern Indiana. He also has served as keynote speaker for the Gibson Southern High School building dedication, the USI Honor Student Symposium, and the EVSC-USI Middle School Inquiry Conference.
In his nomination of Scheller, Dr. James Bandoli, USI professor of biology, said, "It is important to recognize those who embody the spirit of this award in everything they do. Kent Scheller is such a professor."
Scheller is active in his local community of Haubstadt, Indiana. He has served as president of the South Gibson School Board of Trustees and the Haubstadt Chamber of Commerce; chair of the Saints Peter and Paul Catholic Church Finance Committee, School Board, and Parish Council; co-chair of the Saints Peter and Paul Catholic Church capital campaign, raising more than $4 million to enhance the parish; as well as coach of multiple youth athletic teams.
In 1988, he received his bachelor's degree in science from the University of Evansville graduating summa cum laude. He then continued his education at the University of Notre Dame, obtaining his master's degree in physics in 1991, and a doctorate in nuclear physics in 1994.
Scheller and his wife, Amy, live in Haubstadt, Indiana, with their children, Nicholas, Abby, and Jacob.
As recipient of the Distinguished Professor Award, Scheller will receive a monetary award and will select a student to receive a scholarship in his name in the coming year. He also will deliver the address at USI's Fall Commencement in December.