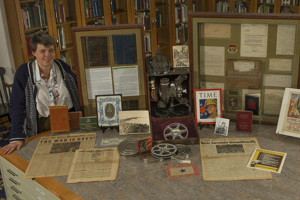 The staff of University of Southern Indiana's Rice Library University Archives and Special Collections invites guests to join them on a trip back through time. From 6 to 7:30 p.m., Monday, April 14, on the third floor of the Rice Library, Jennifer Greene, reference/archives librarian, will show old newsreels from the archives collection.
The reels, approximately 10 minutes each, will be shown on an original Bell and Howard 16mm projector circa 1920's or 1930's.
Films include:
Signal Corps of the US Army: WWI Meuse-Argonne Offensive (Battle of Argonne Forest)
Signal Corps of the US Army: WWI Battle of Saint-Mihiel
News Parade: 1953 News Reel
The New Official News: 1947 World Series Brooklyn Dodgers vs. New York Yankees
Caramel Hollywood Films: 1947 Heavyweight Boxing match Joe Louis vs Joe Walcott
Castle Films: WWII Pacific front/MacArthur Liberates Manila
Hawaii Natural History Association: Mauna Loa volcano Erupts
Castle Films: 1947 News Reel
Milestones of the Century: Pathe News: 60 Years of Navy Subs
Greene will open the showing with a narrative and encourage dialogue between audience members between reels. She has been adding titles to the archives collection, and hopes in the future to invite faculty experts in related areas to provide insight during the viewings.
The reels will appeal to a variety of audiences, from history buffs, to sports fans, to perhaps even Dr. Who fans. "I believe I've found the origin of the Dalek from the Dr. Who series," said Greene.  "In one of the World War I films, there are these little one-man mini tanks that look exactly like the Daleks."
The event is free and open to the public. Seating is limited and on a first come first served basis. For more information contact Jennifer Greene at jagreene@usi.edu or 812-464-1832.