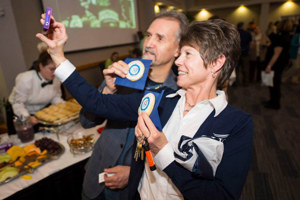 As time passes, we all grow and change, and so does our University. On April 9, a new academic and athletic logo was unveiled. The fresh new look captured an evolution reflective of an ever-expanding campus full of new opportunities, academic advancements, competitive tenacity, and the resources and talents of professionals in their fields. While we look back on the past with sentimental nostalgia and remember the importance of USI's roots, let's not forget that we lay the path for the future.
We've reached out to faculty, staff, and students who are the heart of the University, and asked them to share their thoughts on the rebranding of USI. Here is what a few of them had to say:
Faculty:

Erin Reynolds (assistant professor, Health Services) I think the new logo is more professional and elegant. I really like the Knowledge for Life slogan. The promotional video is great. Since I am new to Evansville and USI, I didn't have an emotional attachment to the previous logo like many locals may have so it is an easy switch for me…if the University changes again in five or ten years, it would be a different story! And it goes well with our cone!

Timothy G. Bryan (instructor, accounting) While I'm a firm believer in tradition, the old USI logo looked dated.  I believe the new one appears more "sophisticated" and classic but modern.
I like the unique, proud and professional appearance of the new logo.
The athletic logo looks tough!
Staff:

Karen Alstadt (production coordinator, Publishing Services Center):I love the new logos. They are modern, clean, and symbolic of our University and Athletics programs.
To me, the USI brand relates to our vibrant, modern physical and academic environment – fresh, strong, enlightened – forward-thinking.

Stephanie Hawes (administrative assistant, Liberal Arts): I appreciate the simplicity and professional look of the academic logo and enjoy what the torch of knowledge represents.  I also think the new athletic logo offers a fierce and competitive look.

Betsy Jo Mullins (administrative assistant, Housing and Residence Life) Being an alumni, a student, and staff I can say that
I love the new USI brand from each of these viewpoints. I think our new brand represent the USI culture and our community. The logos are impressive; the athletic logo is sharp and powerful and the academic logo is clean and modern. I am excited to be part of this new capstone for the University.



Linda Cleek (director, Outreach and Engagement) I very much like the new logos, especially the academic "set" which can be used in so many different ways.  Many universities use a torch or flame in them, but this one has a fresh, futuristic appearance rather than looking like something Diogenes carried around.

Sarah Harlan (assistant director, Alumni and Volunteer Services) The new logos are a definite step-up. While I think the old logos worked well for USI's beginnings, the new are a symbol of how much USI has grown and the University's transition into the outstanding institution of knowledge it has become.
Quite honestly, since we began promoting the USI brand, I have come to feel a much larger sense of pride for my alma mater and workplace. This University really is a special place in a special time period right now. We are still a young university with a rich history behind us – a history so many fought so hard for – and we have come such a long way. To me, USI's brand represents looking forward to the future. Not only is it exciting to think about our students' futures, but the future of the University of Southern Indiana. Evansville is my home, and to see the difference USI makes in my community is inspiring. I am inspired every day when I come to work and am fortunate to work with such intelligent, creative, and caring staff and students.
Kathy Oeth (administrative associate, Special Events) I like the new academic logo because it is classic in appearance making it easy to update, without totally abandoning, its original design. I like the idea that this logo can carry us many years into the future.  I also really like the torch; it symbolizes leadership, academia, and Indiana (since the torch is part of our state flag).
As an employee, I am thrilled to have specific instructions for USI color, logo usage and standardized email. While I love individuality, we need to be linked together to present the same face to the public so we can grow our university forward.
I think the new logos represent some of the coming together that has happened with campus departments in recent years. Together we are stronger!
The USI brand means opportunity. Having USI in Southern Indiana has meant a chance for so many people who would otherwise not have had the chance to experience higher education. Not only has this university lifted up the local population, it has enabled students from many other places to gain knowledge, confidence, and success. I think our new branding reflects the established institution we are today.
Students:

Sera Radovich (sophomore, Bloomington, IN) The athletic logos are much more fierce and they fit better than the previous marks. I am very fond of the academic logo. I think it looks much more sophisticated in comparison to the retro-styled  logo that was used in the past. To me the torch represents a leader, a new mind set. The torch for USI in my opinion represents that we are leaders in quality yet affordable education in the Midwest. We are Indiana's best kept secret, and it is our time to shine as an institution worth thinking about. 

Sara Schmitt (junior, Oakland City, IN) I think the new USI logo is definitely something to be proud of. It's smart, sophisticated and stylish. The new logo really encompasses what USI stands for.  "Knowledge for Life" really applies to what I want to get from a degree from USI— a quality education that will apply to the success of my career for the rest of my life.  
I was very excited about the new logo reveal, and I was not disappointed with the results. I already bought both T-shirt designs and will wear them proudly.