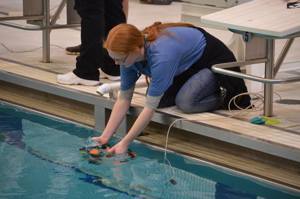 The results of the 2014 National SeaPerch Challenge held May 17, 2014 in Hattiesburg, Mississippi have been released. Three local teams advanced from the 2014 USI/Crane State SeaPerch Challenge and came away with national awards.
Cynthia Heights Acro from Cynthia Heights in Evansville, Indiana coached by Joseph Mathis, received first place in the middle school stock Heist challenge. The Heist challenge course consisted of a mesh vault wall spanning the lane from bottom to surface. Operators opened a vault door by manipulating a simple latch and pushing the vault door open. On the other side of the wall there was a series of boxes to be retrieved. Operators attempted to retrieve as many of the boxes as possible in the time provided.
Angie Anderson coached Red October from St. John School in Newburgh, Indiana. The team finished second overall in the middle school stock competition. Red October received first place in the obstacle course and third place in presentation. The obstacle course consisted of an underwater remotely operated vehicle which maneuvered successfully under its own power. The submerged obstacle course involved large rings, oriented in any direction, through which the vehicles traveled. Teams navigated through the obstacle course, surfaced, then re-submerged and returned through the course to the end. Scores for this round were based on the fastest time for successfully navigating the obstacle course.
Anderson also led Catching Red October from St. John School. The team had a nice showing in the middle school stock competition, finishing in eighth place.
"SeaPerch takes students out of the classroom and gives them the opportunity to learn about science and engineering in a fun and interactive way," said Allison Grabert, director of the SwISTEM in USI's Pott College of Science, Engineering, and Education.
The SwiSTEM Resource Center promotes hands-on and inquiry-based education through teacher professional development, equipment lending and student-centered STEM outreach activities. The SwiSTEM Resource Center also maintains supportive resources to help Indiana's K-12 schools build the capacity necessary to make immediate and sustained gains in delivery of STEM educational achievement for their students.
For more information about the USI SwiSTEM Resource Center, visit www.usi.edu/stem.