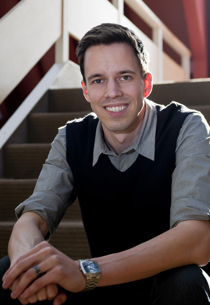 Dan Meyer - a math expert, blogger, former Google employee, and TED Talk presenter with 1.7 million views - will present "Video Games and Making Math More Like Things Students Like" at 7 p.m. May 20 in Mitchell Auditorium in the Health Professions Center at the University of Southern Indiana. The lecture will center on how school mathematics can change to be more relevant and meaningful for students.
"Students around the world are playing millions of hours of video games every day and, in many cases, they're enjoying those games more than they enjoy our math classes," Meyer has said. "Let's look at several of the most popular video games of all time and pull out some lessons. As task designers, test givers, and classroom managers, what can we learn from those games?"
Meyer has taught high school mathematics and is currently studying on a doctoral fellowship at Stanford University in the field of curriculum design and teacher education. He has won national awards for his work integrating multimedia across mathematics.
His lecture is sponsored by the Provost's Office, Pott College of Science, Engineering, and Education and the Mathematics Department and is free and open to the public.
While on campus, Meyer also will present a workshop for USI math and education faculty, College Achievement Program (CAP) instructors, and invited guests from IVY Tech, Vincennes University and the Evansville Vanderburgh School Corporation.
For more information, contact Dr. Kathy Rodgers, chair of Mathematics, at 812-465-7093.