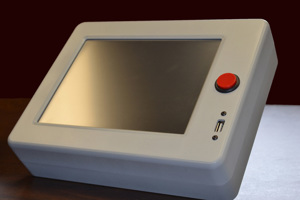 This summer, USI's Center for Applied Research and Economic Development (CARED) partnered with local entrepreneur, Adam Hudson, to turn an idea into reality. Using a 3D printer at USI's Applied Engineering Center, Hudson, president of Hudson Satellite Positioning Corporation in Princeton, Indiana, was able to turn a new design concept into a three-dimensional prototype.
The product is a system that integrates a computer console with a global positioning system (GPS) to create a compact and efficient satellite positioning system. The system would save a business time and money, as large vehicles would use less fuel to locate their desired position. Hudson's first version was tough enough to withstand the environment but could only track one point of location and was complicated and heavy.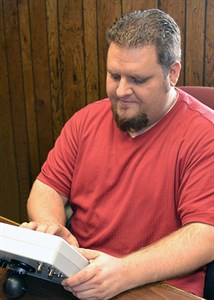 After the original prototype was created, concerns were raised about the locations of the ports and the overall size. With this information, Hudson created a new design with a manufactured appearance that better reflected the buyer's needs as well as withstood typical wear and tear. However, moving forward with the new design required more capital than he could provide as a small business owner.
After hitting this roadblock, Hudson was connected with CARED by Todd Mosby, president and CEO of Gibson County Economic Development Corporation. Through this collaboration, Hudson was able to bring his design to life. Under the supervision of David Ellert, USI instructor in engineering, Alexander Flick, a student engineering technician for USI's Applied Engineering Center, printed the design on a 3D printer. The new product is 20 percent smaller, ports have been relocated, the design is sleeker and it can now track two points of location, making the device more versatile.
Hudson said having a physical prototype will increase his chances of gaining a global account and expanding his business. When approaching potential buyers, he'll be able to present a prototype that can be touched and clearly visualized. "I want them to take what they saw in the field and push the fact that this product is unique and that it can be modified to fit their business's needs," he said.