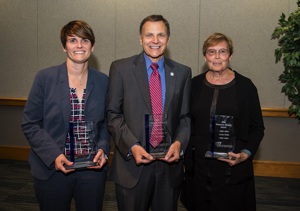 The University of Southern Indiana celebrated its founders and honored supporters at the annual Alumni Association Founders Day program on September 14 in Carter Hall.
"USI is a shining example of what single-minded, driven sprits can accomplish when they band together for a common goal," said Linda L. M. Bennett, USI president. "This institution was the brainchild of a small group of civic-minded leaders who, in 1966, formed a nonprofit organization call Southern Indiana Higher Education, Inc. (SIHE), and envisioned a public university that would serve both Evansville and the region. They wanted to provide educational and advancement opportunities for citizens who, in return, would attract new business and industry to the community. Today, we pay homage to those founders, but we also look to the future, as we continue to expand on that mission and embark on our second half century."
The event, sponsored by the USI Alumni Association, was headlined by the presentation of three major awards: the Alumni Service Award, Special Recognition Award and Faculty Recognition Award.
Alumni Service Award
Dr. Joey Barnett '80 was presented with the 2016 Alumni Service Award. Barnett, who received a bachelor's degree in biology from USI, has been a longtime servant leader for USI's causes and mission. He served on multiple task forces in the development of the 2016-2020 USI Strategic Plan and was a member of the search committee for the Dean of the College of Liberal Arts. Barnett also has served as a member of the USI Foundation Board of Directors since 1997. Barnett established both the Victor Barnett Engineering Scholarship and Barnett Research Award to honor his father and grandparents, respectively.
"Dr. Barnett's contributions to the University of Southern Indiana and the community at large has been tremendous," said Ann White, dean of the College of Nursing and Health Professions. "He has never forgotten his home and the University that started his career. He has boundless energy which he gives back to the Evansville area."
Barnett is a professor of pharmacology, medicine, pediatrics, pathology, microbiology and immunology and assistant dean of physician-researcher training at the Vanderbilt University School of Medicine in Nashville. He received a doctorate in pharmacology from Vanderbilt University. He has served in multiple leadership roles in the American Heart Association, is a fellow of the American Association for the Advancement of Science and has published over 70 peer reviewed articles.
Honorary Alumni Award
Linda Willis, secretary of the USI Varsity Club, was awarded the Honorary Alumni Award. Willis, a retired elementary school teacher in the Metropolitan School District of Mt. Vernon, has been a member of the Varsity Club for 46 years and served as the co-captain of the club's Fall Festival booth. She is a member of Volunteer USI and the Historic New Harmony Advisory Board, a past member of the New Harmony Teacher Advisory Board and a member of the USI Foundation's C. Wayne Worthington Society. She also has contributed to Campaign USI: Elevating Excellence, and is a charter member of the Reflections Planned Giving Society.
Willis received a bachelor's degree from the University of Evansville and a master's degree from Indiana State University. She is a member of the Indiana Retired Teachers Association, Posey County Retired Teachers, Delta Kappa Gamma and Phi Delta Kappa.
Faculty Recognition Award
Dr. Glenna Bower '94, associate dean of the Pott College of Science, Engineering, and Education and professor of kinesiology, was selected as the recipient of the Faculty Recognition Award. Bower joined the USI faculty in 2004 and was named chair of the Kinesiology and Sport Department in 2010. Among other activities, she has served as a member of the search committee for the dean of the Pott College, chair of the University Core Curriculum Committee, and as strength and conditioning coach for the Women's Basketball team. She also is the overseer of the Screaming Eagles Running Series.
Bower received a bachelor's degree in physical education from USI, a master's degree in physical education from Indiana State University and a doctorate in educational leadership and organizational development from the University of Louisville. Her main research area is mentoring to advance women in leadership positions within sport. Prior to joining the USI faculty, she was an instructor at the University of Louisville and worked in corporate fitness at Mead Johnson Nutritionals and General Electric.