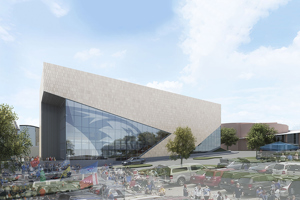 The University of Southern Indiana has begun work on phase I of an eagerly-awaited two-phase expansion and renovation of its Physical Activities Center (PAC). The PAC serves as home to all of USI's nationally-recognized Screaming Eagles athletic programs, including Men's and Women's Basketball and Volleyball, which are played in the facility. The PAC also includes classroom space for several high-impact academic programs, is used twice each year for University commencement ceremonies, hosts nationally-known speaker engagements and serves as a community emergency shelter when needed.
The PAC construction contract was awarded to Empire Contractors of Evansville in April and work began shortly after. As construction was getting under way, the University learned that the second phase of expansion and construction would be fully funded with an appropriation of $41 million approved by the Indiana General Assembly in the 2017-2019 biennial budget.
"This project is without a doubt a transformational moment for this campus, our students and the community," said Steve Bridges, vice president for finance and administration at USI. "We are incredibly grateful for the support of our local legislators who are always such strong proponents for southwestern Indiana, and all of the state legislators and government officials who recognized the value of our request."
The two-phase project, with a total price tag of around $66 million, will add more than 200,000 square feet of space to the facility, in addition to the renovations of existing space. "The current PAC has served this campus well since 1980 and remains strong structurally, but it's tired both aesthetically and functionally," said Bridges. "This project will dramatically improve the experience for everyone who utilizes the building and, in particular, the students and faculty who make that building their academic home on campus." Funding comes from state appropriations as well as through the University's repair and rehabilitation funds and special projects funding.    
Highlights of phase I, which is expected to be completed fall of 2018, include construction of a new 4,300-seat basketball arena and a kinesiology and sport lab, the addition of a spirit store, improved concessions and updates to utility infrastructure. During phase I, the existing pool also is being removed and will be replaced with a new aquatic facility in the second phase of the project. The new arena will be constructed on the northwest side of the existing PAC, will be more visible from University Boulevard and campus and will feature an inviting and expanded lobby area for athletic and campus events.
"This project will have a tremendous positive impact on our entire program," said Jon Mark Hall, director of Athletics. "Not only will we have a beautiful space for our basketball and women's volleyball programs to compete, we'll be adding much-needed locker room, athletic training and conditioning space for all of our programs. Many of our student-athletes are Kinesiology and Sport majors, and the additional classroom and academic space will offer them, and all students in Kinesiology and Sport, the hands-on experience they'll need in the workforce."
Included in the project are a new Human Performance Laboratory and an Instructional Performance Center, both state-of-the-art laboratory facilities that will allow students to learn the latest fitness and performance testing techniques; allow faculty to conduct research and testing; and provide a venue for community service in exercise science that may include programs related to disease prevention, optimal performance and injury prevention. "Kinesiology and Sport is one of the fastest growing departments at USI, and the PAC expansion will provide a much-needed, designated facility to teach, conduct research and provide service to faculty, students and the local community," said Zane Mitchell, dean of USI's Pott College of Science, Engineering, and Education.
Phase II
Work on phase two of PAC renovation and expansion is anticipated to begin in spring 2019, once phase I is complete and state funding has been released for the project.
During phase II, additional seating will be added to the arena, bringing total seating capacity to more than 4,800. Additional highlights of phase II include renovation of the existing PAC facility, the addition of a competitive-level swimming pool and diving well on the north side of the Recreation Fitness and Wellness Center, collaborative group learning space with enhanced technological abilities, instructional space for high-demand academic programs, and new and renovated space for faculty and staff.
Hall is eagerly anticipating the completion of the project. "Our coaches recruit the finest prospective student-athletes every day and to have an academic and athletic facility like this that they can call home will be a major factor in attracting new talent," he said. "This will be a building that our entire University community will be proud of."
Phase II of PAC renovation and expansion is expected to take from 18 to 21 months to complete. A topping-off ceremony during phase I is anticipated in fall 2017, if the project remains on schedule.