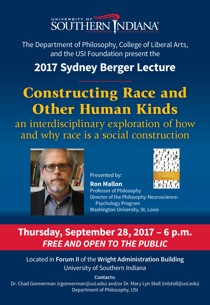 Dr. Ron Mallon, professor and chair of philosophy at Washington University in St. Louis, will present the 2017 Sydney Berger Lecture at 6 p.m. Thursday, September 28 in Forum II, located in the Wright Administration Building on the University of Southern Indiana campus. Mallon's lecture, "Constructing Race and Other Human Kinds," is free and open to the public.
Mallon, whose research explores intersections of transmitted culture and human psychology, will present on the idea that race is a social construct. The talk will discuss why someone would want to say that race is a social construct and the implications of that statement, as well as contrast race with other social constructs.
Prior to joining Washington University, Mallon held positions at the University of Utah, Princeton University and Hong Kong University. He has bachelor's degrees in English and philosophy from the University of Kansas and a doctorate in philosophy from Rutgers University.
The Berger Lecture is presented each year by the USI College of Liberal Arts in honor of Sydney Berger, one of Evansville's most respected attorneys who worked with local civil rights organizations and served as an instructor at USI for nearly two decades. Each year, a guest lecturer presents on the theme of civil rights or civil liberties, celebrating the values Berger cherished.
For more information, contact Dr. Chad Gonnerman at cgonnerman@usi.edu.