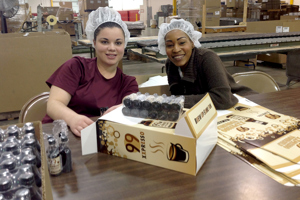 The University of Southern Indiana has partnered with the Evansville Association for the Blind (EAB) to assist them with production time studies. USI's Center for Applied Research and Economic Development (CARED) connected EAB with Dr. Tom McDonald, USI assistant professor of engineering, to determine an appropriate production rate for EAB employees. The U.S. Department of Labor requires organizations that utilize productivity-based pay rates to submit a production time study report, supported by a time study engineer, every three years.
EAB has worked with USI several times in the past, employing University alumni and interns in areas ranging from accounting to social work. This is the first time that EAB has looked to USI to help conduct production time studies. The organization approached CARED because they wanted to use the most current methods and technology to complete the study.
McDonald used the latest work-study technology to calculate the average production rate of EAB employees. He attended four different shifts at EAB; measuring the time it takes fast, average and low speed employees at each workstation to complete an assigned task. McDonald will analyze the data and calculate an average production time for each task.
"They use this information to determine what they call 'making rate.' I'm here to determine how much work should be done if you are moving at a normal pace. From there, EAB can set what the pay rate should be," said McDonald.
Each EAB employee has a diverse range of physical and mental abilities, making productivity-based pay most efficient for the organization and the employees.
"These individuals might not be employed if this opportunity was not available to them, and those that receive a reduced wage often receive government assistance as well." said Karla Horrel, executive director of EAB. "Without the opportunity to do productivity-based pay, it would hurt all sides of the organization. Not only would we lose the ones who can't produce at the highest level, but we would lose those who overproduce to higher paying jobs."
Through collaboration with USI, EAB can stay in compliance with the U.S. Department of Labor and continue to provide employment opportunities to those that are disabled and disadvantaged.
For more information about how CARED can assist your organization, visit usi.edu/extserv/car or email appliedresearch@usi.edu.