Adult learners come to USI from many different cultures and backgrounds, each with their own sets of experiences and personal responsibilities. Maybe they're parents, business owners, retirees, or come from any other walk of life.
There are always exceptions, but an adult learner will likely identify with at least one of the following situations:
     •  25 years or older
     •  returning to school after 2+ years away
     •  has dependents
Think you're too busy to focus on school right now? Start small. With flexible course delivery options and personalized program offerings, USI makes it easy to earn your credentials at your own pace.

Many of our academic programs also offer Prior Learning Assessment, which can allow your past experience to substitute for valuable course credit!
Worried you'll be a certain age by the time you complete your degree or obtain a certification? That time will pass no matter what; the question is whether you'll have a degree in the end.

Afraid you'll be older than your peers? According to the National Center for Education Statistics, those over the age of 25 accounted for more than 40% of students enrolled at colleges and universities during the fall 2019 semester.
The cost of education can always be a concern. Luckily, there are many forms of financial assistance at your reach, including financial aid, employer reimbursement, scholarships, and grants.

For instance, the state of Indiana offers an Adult Student Grant, aimed at helping residents age 25 years and older pursue higher education.

You might even consider working for USI; employees, their spouses, and their children are often eligible for tuition waivers.

Your personal CALS Intake Specialist will be glad to discuss these and more opportunities with you.
How well you performed academically in your younger days is not necessarily a predictor of how well you'll do now. Adult students tend to have a deeper appreciation for learning. Life circumstances change, maturity and wisdom are gained, and the investment in yourself can be more rewarding later in life.

Being an adult learner can seem complicated by adult responsibilities. Let our team help clear things up by offering one-on-one guidance, including information about financial assistance, disability resources, counseling and psychological services, veteran and military resources, and more.
Professors use various technologies to most effectively demonstrate learning objectives and communicate with students. These programs are all fairly intuitive, though, and can be as simple as checking your email or browsing the Internet.

If you're concerned about keeping up with your classes, know that you will never be alone at USI. In addition to having your own CALS support specialist on your side, the office of Online Learning has prepared several helpful technology resources to provide the guidance you may need.
Thriving Time: Adult Learner Support Group
Thriving Time is a peer-led, adult learner support group held via Zoom to support the mental health and academic success of adult students. This recurring event is sponsored by USI's Center for Adult Learner Success in coordination with Counseling and Psychological Services.

Event Dates:
Tuesday, February 21
Tuesday, March 21
Tuesday, April 18

Lunch Sessions:
12-12:45 p.m.
Zoom Link

Evening Sessions:
6-6:45 p.m.
Zoom Link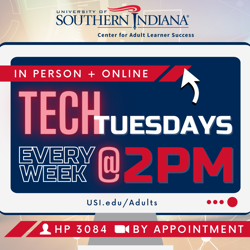 Tech Tuesdays
Have questions about technologies available to USI students?
These might include resources available through the David L. Rice Library or any of the Eagle Apps, including Blackboard, VoiceThread, Outlook, Office365, DegreeWorks, RaveAlert, and Banner Self-Service.
Join us from 2-3 p.m. each Tuesday in 3084 Health Professions Center. Bring any tech questions you have during this hour of open consultation. In-person walk-ins are welcome, or students may schedule an online appointment by emailing adult.learners@usi.edu.
Your personal advocates in higher education. 
Whether you've attended college in the past or are completely new to the scene, the University of Southern Indiana's Center for Adult Learner Success is here to make this transition an easy one for you. Meet our team, which is fully comprised of adult learners like you!
Now is the time.
We're excited to meet with you on your time - whether in person, via video or text chat, through email, or over the phone. We understand the busy life you lead and are here to help remove any barriers to your education, even if that's as simple as finding a convenient time to discuss your goals.

Achieve your goals.
As adults, the biggest lie we tell ourselves is that it's not the right time to pursue our goals. We shift our own dreams aside – either out of fear or to place others' needs before our own. We tell ourselves we're too old, too busy, too whatever to return to school. The truth is there has never been a better time to pursue your educational aspirations.