Coverage
Employees of the University, including student workers, are covered by worker's compensation for injuries incurred while engaged in regularly assigned duties. Claims are processed in accordance with the State of Indiana Worker's Compensation Statutes. Benefits received for injuries depend on the nature of the injury, the duration and extent of disability, and medical and surgical expenses.
All accidents must be reported to Public Safety at 812-492-7777 and to the injured employee's immediate supervisor within 24 hours. An Injury/Illness Report Form should be completed by the injured employee, and/or the supervisor and forwarded to the Human Resources Department.
Medical Care for Injuries
Indiana is a direct medical care state. Contact the Human Resources Department for pre-authorized medical visits for non-life threatening incidents. Seek immediate treatment at the nearest hospital for life threatening situations.
The University Health Center, located on the lower level of the Health Professions Center, is the primary Worker's Compensation medical facility for the University, if more than first aid is required. If an employee needs treatment during the hours in which the University Health Center is closed, visit Additional Worker's Compensation Providers. 
If an employee receives treatment from any place other than the authorized facilities, the University of Southern Indiana may not be responsible for the charges. All worker's compensation invoices should be forwarded to a Benefit representative in Human Resources.
Compensation
After the worker's compensation claim has been reviewed by the insurance carrier, payment of the medical bills and temporary total disability compensation may be granted. Human Resources or the insurance carrier will advise the employee of the case status, showing the amount of compensation payable under the law. View Compensation Flowchart.
In collaboration with Human Resources, the department supervisor is required to advise Human Resources when an injured employee under worker's compensation returns to work, the number of lost work days, and any restricted work activity. Prior to returning to work, a signed physician's release form should be forwarded to Human Resources.
---
---
---
FAQs
Worker's compensation is an accident insurance program paid by the University which may provide you with medical, rehabilitation and income benefits if you are injured on the job. These benefits are provided to help you return to work.
All USI employees (including student workers) are covered by workers' compensation.  
The law requires most businesses to have worker's compensation insurance. If you are injured while working at your job, you may be entitled to workers' compensation benefits.
You should report any accident to your employer (Public Safety Department, supervisor, direct report, director, dean) immediately and submit a First Injury Report to Human Resources within 24 hours of the incident. Your supervisor and/or department is directed to contact Human Resources immediately. 
Call Public Safety at 812-492-7777 for immediate first aid assistance. They are able to immediately contact an ambulance for emergency injuries. Contact HR right away to report any work-related injuries.
Authorized Facilities to Use chart. 
The following is in order of which facility to use:
1) USI University Health Center (Lower Level of Health Professions Building)
Type of Service: Minor first aid to include stitches
Service Hours:
Monday-Friday; 8:00 a.m. - 4:30 p.m. (Fall & Spring)
Monday-Friday; 9:00 a.m. - 3:00 p.m. (Summer)
2) Deaconess Comp Center (329 Columbia Street)
Type of Service: Injury Care, Rehab services, X-Rays
Service Hours: Monday – Friday; 7:00 a.m. – 5:00 p.m.  
3) Deaconess Clinic Urgent Care North Park (4506 N. 1st Avenue-behind Burger King)
Type of Service: Injury Care, Rehab services, X-Rays
Service Hours: Everyday; 8:00 a.m. -8:00 p.m.
4) Deaconess Hospital Mid-Town (600 Mary Street)
Type of Service: Life Threatening situations. (3rd Shift Employees: Non-Life-Threatening situations may wait until next day when Facility 1 or 2 open for treatment.)
Service Hours: All day, everyday
If you are unable to return to work for more than 7 consecutive days you are entitled to weekly income benefits. You will not be paid for the first week of lost time until you have been out 21 consecutive days. See Compensation Flowchart. 
Yes. If you elect, you may use 1. 5 hours per workday of your available paid time during this time period. See Compensation Flowchart. 
If you are unable to work TTD (temporarily totally disabled), you will receive two-thirds (66 2/3) of your average weekly wage for the past 52 weeks from the workers compensation insurance carrier. See Compensation Flowchart. 
Yes. If you elect, you may use 1. 5 hours per workday of your available paid time during this time period. This option helps pay benefit premiums pre-tax through payroll versus being invoiced for premiums owed while on consecutive leave. See Compensation Flowchart. 
No. Workers Compensation is not taxable. This is why you are paid on 66 2/3 of your average weekly wage.
In Indiana the employer directs medical care. Make sure you always communicate with Human Resources regarding medical care!
If your medical appointment is during your normal working hours and you are not off on TTD then you will be paid your normal wages during the time you are at your appointments.
On the side of your bi-weekly time sheets, write "W/C: X.XX hours" to the day(s) so Human Resources have the worker's comp usage on file for auditing purposes. Monthly exempt employees write same information in the comments sections of your monthly reports.
Communication with Human Resources and your department on your return-to-work status is required. The University will need a release to return to work from your worker's compensation evaluation and follow-up appointments. This documentation must reflect either a release to work with no restrictions (full duty) or with work restrictions (modified duty or duties). The documentation must list specific restrictions along with duration for Human Resources to conduct the interactive process for ADA accommodations, if applicable.
---
Workers Compensation Contact: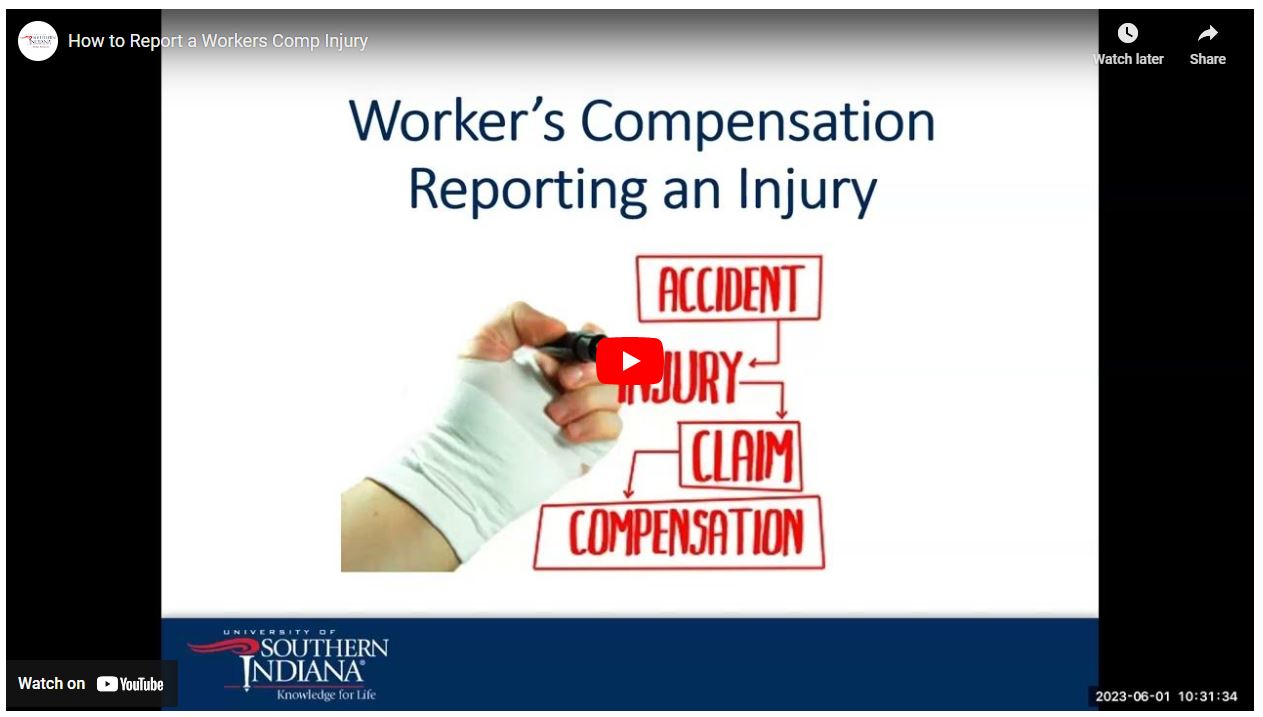 Reporting a Worker's Comp Injury
Seeking Worker's Comp Medical Treatment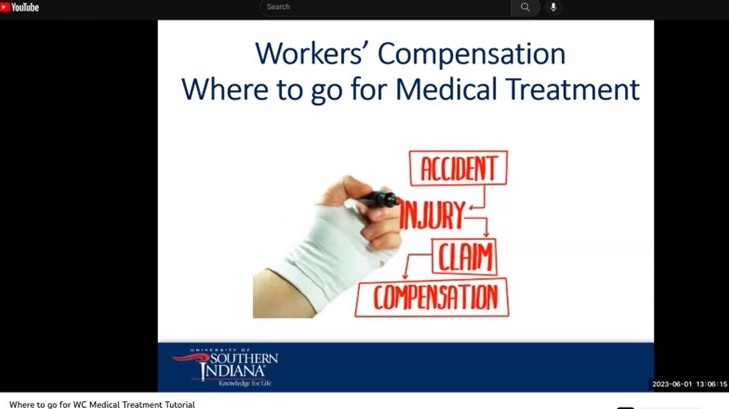 Where to go for Worker's Comp Medical Treatment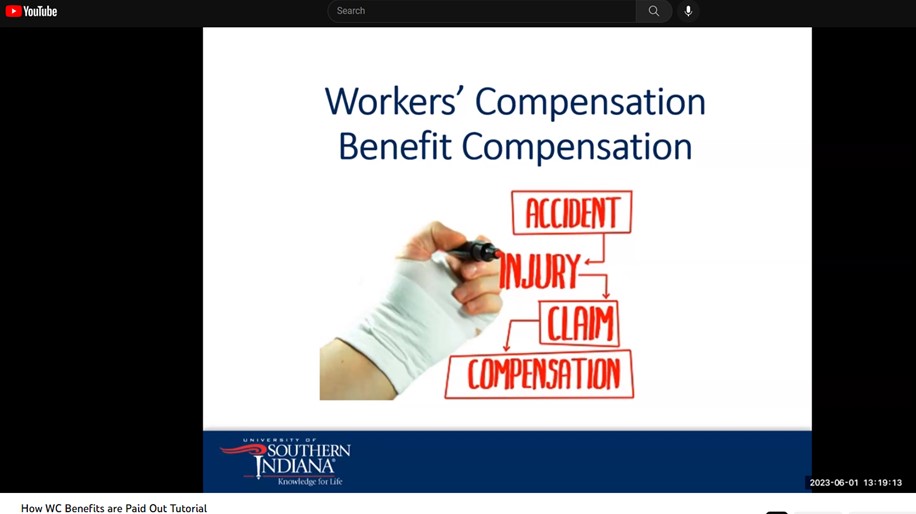 How Worker's Comp Benefits are Paid Out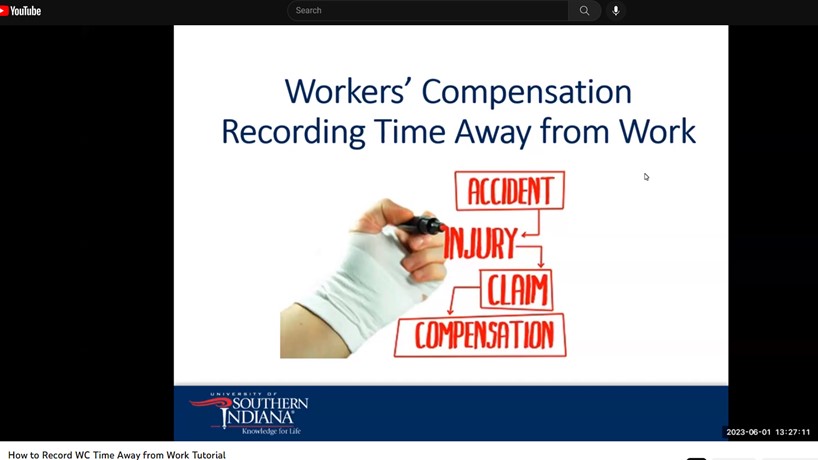 How to Record Worker's Comp Time Away from Work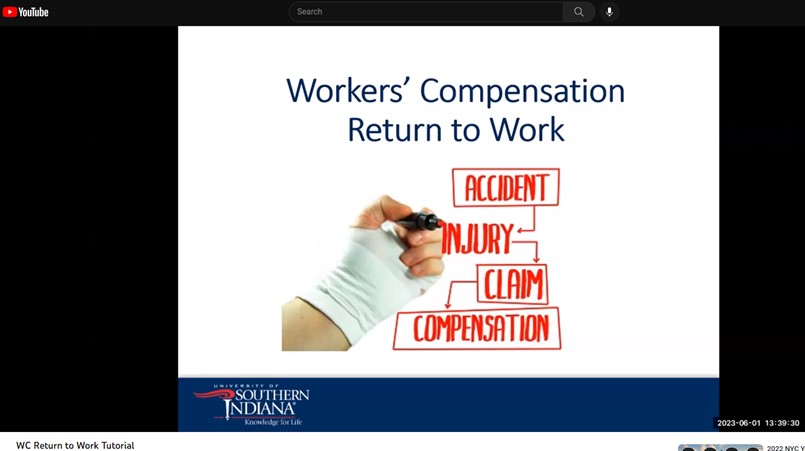 Return to Work from a Work Related Injury/Illness