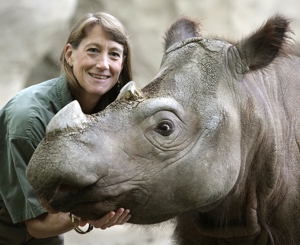 Dr. Terri Roth will present the annual Marlene V. Shaw Biology Lecture, funded by an endowment established in the USI Foundation, at 7 p.m. Wednesday, April 2, in Mitchell Auditorium in the Health Professions Center. The lecture is free and open to the public.
Roth is vice president of conservation and science and director of the Center for Conservation and Research of Endangered Wildlife (CREW) at Cincinnati Zoo and Botanical Garden in Ohio and known world-wide for her scientific breakthroughs that led to the birth of the first Sumatran rhinoceros in captivity in 112 years. Andalas was born at the Cincinnati Zoo in 2001 and returned to Indonesia in 2007. Second and third calves were born in 2004 and 2007.
CREW serves as a fertility clinic for endangered species - from polar bears to toads. Using cutting-edge technology and sound science, CREW researchers work with zoos across the nation to unravel the mysteries of reproduction in species in need and strive to produce offspring, often against great odds.
Roth's lecture is titled, "The Science and Technology of Breeding Endangered Species when Mother Nature Needs a Helping Hand." "I love the challenge of using science to unravel the mysteries of nature, but for me, the effort is only truly worthwhile when it is for a nobler cause; that cause is conservation," she said.
Roth has served on the board of the International Rhino Foundation since 2002 and also on the Sumatran Rhino Global Management and Propagation Board. As chair of the Rhino Research Council of the Association of Zoos and Aquariums Rhino Taxon Advisory Group (TAG), she led the development of the Rhino TAG's five-year plan for rhino research in 2003 and 2008.
She was the 2004 recipient of a Chevron Texaco Conservation Award, "Honoring Our Environmental Heroes" for her Sumatran Rhino work, and is the subject of an award-winning 2007 young people's book, Emi and the Rhino Scientist, published by Houghton Mifflin.
Roth earned bachelor's and master's degrees in animal science at the University of California, Davis. She was awarded a Board of Regents Fellowship at Louisiana State University, where she earned her Ph.D. in animal reproductive physiology with a minor in immunology. After completing her post-doctoral training at the Smithsonian Institution's National Zoological Park in Washington, D.C., she transferred to the National Zoo's Conservation and Research Center and was employed there as a gamete biologist for three years before coming to Cincinnati to join CREW in 1996.
She also has adjunct appointments at the University of Cincinnati's Biological Sciences Department, the U.C. Medical College's OB/GYN Department, and Miami University's Zoology Department. She also retains her affiliation as a Smithsonian Research Associate.