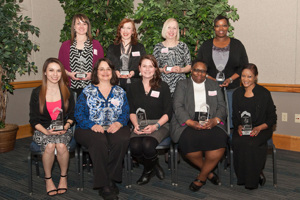 Nine women were honored Thursday at the 2014 Phenomenal Women of USI and Community Recognition Ceremony, sponsored by University of Southern Indiana's Multicultural Center, Old National Bank, and the American Association of University Women.
Phenomenal Women recognizes nine women in six categories: USI undergraduate student, USI alumni, USI faculty, USI administrative staff, USI support staff, and community-at-large. 
Held at USI during Women's History Month, Phenomenal Women awards honor and celebrate women from all walks of life who have made contributions to diversity in the USI and Evansville communities. Through the annual recognition of these contributions, the Phenomenal Women program hopes to inspire others to embrace and promote diversity within their own lives.
2014 Phenomenal Women of USI
Kelly Fitzgerald (undergraduate student): In the summer of 2013, Fitzgerald spent five weeks interning at an orphanage in Ghana, Africa. While there, she helped in various teaching capacities and tutored the children in math, reading, and English. Fitzgerald, a soccer player at USI, served as a soccer instructor for the girls at the orphanage. Once she returned to the United States, she began a program to raise money to cover bus traveling expenses for the orphanage. She also spearheaded an effort to get the children of the orphanage sponsorships to help with school expenses, food expenses, and anything else they need.  She is also working on a grant to generate much-needed revenue for the school so that it can expand its on-site housing. 
Glorisel Cruz (undergraduate student): Cruz is an active member of Latinos Unidos, serving as historian and, currently, president. She also serves as a resident assistant and has become active in USI's Diversity Project. She co-founded the African Student Union. A first-generation college graduate, she has a 3.7 GPA and been accepted into the doctoral program at the University of Charleston School of Pharmacy.
Kathryn Waters (faculty): Waters, professor of art, has been an outstanding teacher, artist, and member of the community for over 30 years, teaching thousands of USI students by drawing on her extensive art background. Her paintings have been exhibited locally, regionally, and nationally, including Matter Mind Spirit: 12 Contemporary Indiana Women Artists at the National Museum of Women in the Arts in Washington, DC in 2000. Her works can also be found in numerous private collections abroad. As director of USI's McCutchan Art Center/Pace Galleried, she prepares five or six diverse exhibitions every year, a task that requires much organizational skill and creativity. In addition to facilitating art experiences for the public, she frequently judges local art competitions and serves as external reviewer for artist colleagues elsewhere. 
Dr. Stephanie Cunningham (administrative staff): Cunningham is staff therapist and outreach coordinator in the USI Counseling Center. Her primary responsibility is the evaluation and treatment of mental, emotional, and behavioral health. In addition to her excellent clinical skills, which are based on a feminist cognitive-behavioral paradigm, Cunningham maintains a passion for diversity that is evidenced in all aspects of her personal and professional life. She worked with the Multicultural Center to institute a monthly outreach program called the "power hour" where students discuss diversity-related issues and personal experiences, while simultaneously receiving informal support from the counseling center. She regularly coordinates with other departments, student groups, and community organizations on activities related to LGBT issues, intimate partner violence, sexual assault, social justice and more.
Terry Martin (support staff): Martin, administrative associate in the Pott College of Science, Engineering, and Education, is currently finishing her bachelor's degree in social work while working full-time as an employee at USI. She also holds an associate degree in early childhood education. Martin's compassion for those less fortunate inspired her to pursue a degree in social work. She volunteers with her local church, working with preschool children. She spent last semester working with a local group that oversees court-ordered supervised parental visits of divorced parents. This semester she is doing her field work for her degree at The Potter's Wheel, an inner city ministry in Evansville.
Allison Grabert (alumni): Grabert is director of the Southwest Indiana STEM Resource Center and a key collaborator in USI's partnership with NSWC Crane. She works to bring together educators from the region to work side-by-side with Crane engineers and scientists to strengthen STEM education in the Tri-state. Based on her experience and collaborative partnerships among regional schools, industry, and leaders she is sought out for her keen insights regarding education and championing how to promote the success of young girls and women in STEM careers.  She is a marvelous role model to aspiring K-12 girls, regional business leaders, and colleagues with which she works.
2014 Phenomenal Women of the Community
Lana Burton: Burton is the principal of Harper Elementary School, where she has led her school from a level of struggling on state assessments to a level where they had excelled and have been recognized by the corporation and the state in moving forward. She has also been instrumental in the success of the Evansville African American Museum.  She took over the reins shortly after Sondra Matthews retired from the position and served as the director of the museum for many years. She is a leader at Zion Missionary Baptist Church, where she serves as a teacher.
Pamela Jutzi: Jutzi was diagnosed with multiple sclerosis in 2004 and is a devoted volunteer with the Tri-State Multiple Sclerosis Association in Evansville. In late 2008, she began volunteering by taking photos at organizational events and discovered a love for photography. When she is not sick herself, she volunteers at Tri-State Multiple Sclerosis Association events, volunteers as a Facebook page administrator, and prepares monthly newsletters for mailing to approximately 1,300 people. She is also heavily involved in advocating for others with MS. 
Lori Sutton: Sutton is diversity and inclusion manager for Vectren Corporation. She has served for three years as co-chair of the Sowing Seeds of Empowerment Women's Conference focusing on women of color. The conference is dedicated to building awareness in the areas of health, wealth, and education and draws approximately 200 youth and women each year.  She serves on many boards in the community, is active in her church and is a member of Delta Sigma Theta sorority.